As technology becomes more entrenched in the music business, so do our options for guitar-modeling and effects software. One application, JamVox ($340 list), captured my interest lately, and I must say I am really impressed. (Vox also includes a USB hardware unit that gives you a way to bring your guitar into the Mac, but also provides a nice-sounding speaker so you have the ability to plug in and listen to your guitar right away.)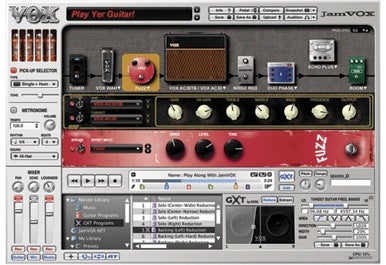 Made by Vox, the same company that brought us so many classic guitar tones over the years, JamVox aims to recreate the tone of the AC30, AC15, and many Marshall models, among others. When it comes right down to it, authenticity is what we really want when using software to recreate guitar tone.
I have a couple of the amps that Vox modeled in this software, and the models are incredibly close to the real thing. I don't think any software can completely match your analog setup because there are just too many variables to contend with, but JamVox has most of the bases covered.
What JamVox has going for it—which no other company has at the moment—is that it actually makes the analog versions of some of this gear. That gives Vox an intimate knowledge of how things work and sound, obviously giving it a leg up when it comes to modeling the sound.
That advantage isn't limited to the Vox gear either. With its unique relationship to Korg and Marshall, Vox is able to put together some of the best sounding effects and amps in a software application today.
As a guitar player, I would be satisfied with the application if it stopped there, but there's more. JamVox comes with an integrated online component, the ability to access your iTunes library, and a way to purchase guitar tabs for songs.
Perhaps one of the most interesting features is Vox's Guitar Xtraction Technology (GXT). This allows you to play one of the songs in your iTunes library and remove the guitar parts on-the-fly, so you can play along and only hear your guitar.
You start by clicking on Import iTunes Library and JamVox will scan all of your music and put links in the application to your songs. It doesn't actually import the music, just the names of the songs.
GXT uses frequencies to cancel out the places where you would find the guitar in a song. It's very customizable, so you can tweak the settings until you are happy with the results. You can also save your settings, so you can use them again later.
I've had varying success with GXT, depending on the song I was using, but it's an intriguing feature.
Vox's use of its online community in the application is excellent. You can create guitar presets and GXT presets, and then upload to the JamVox service for others to use. You can also download presets made by Vox and other users. The selection is growing every day, so it's a place I look to often to see how other guitar players are using some of the effects and amps in the software.
There are only two things I wish I could do with JamVox, however. I really like the ability to have dual amps in my presets and unfortunately, you can't do that. I would also like to see Vox release a plug-in version of JamVox, so I can use it Logic and Pro Tools.