GeeThree has introduced three new effects plug-ins for Apple's Final Cut Pro and Final Cut Express software. PhotoMotion, PhotoMotion Producer and Fusion Factory HD are each available for $79.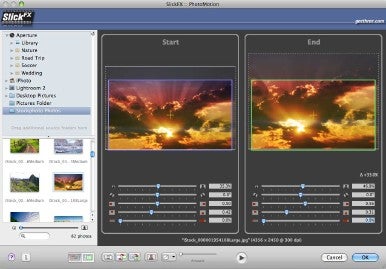 Aimed at video editors working with still photographic images, PhotoMotion adds a "Ken Burns" effect in Final Cut. A built-in media browser shows photos in Lightroom, Aperture and iPhoto, and a user interface lets editors mark start and end positions, advanced features like "ease in and out" and more. It supports the GPU of the host computer's graphics card to speed up rendering.
PhotoMotion Producer is a companion plug-in designed to use Final Cut Pro's XML data to create slideshows. You can select images using a built-in media browser, reorder the slides and customize duration, then click to generate a new sequence of moving images. Sequences can be edited with transitions, titles, filters and audio.
Fusion Factory HD adds 750 soft and organic dissolves to Final Cut; each dissolve can be customized by controlling the softness degree, direction and speed.