The New York Times, which is skirting ever closer to bankruptcy, may not be a going concern this time next year. USA Today recently reported a 7.5 percent drop in circulation—the sharpest in that publication's history. And the Los Angeles Times, owned by the bankrupt Tribune Company, is bleeding subscribers by the thousands and dollars by the millions.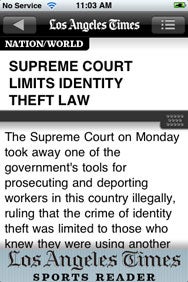 Say what you will about the New York Times, but the paper's app ( ) set the standard for newspapers on the iPhone and iPod touch. The L.A. Times News Reader, by contrast, looks like you would expect a company headed for liquidation would look: Cut-rate.
The free app from Tribune Interactive only works with an Internet connection (no downloadable content or offline support) and the interface is simply terrible. It looks amateurish. Headlines scroll horizontally while stories scroll vertically. Some articles appear with paragraph breaks; some don't. You can alter the type size, but you need to leave the app and go to your device's Settings menu to do so. And then you have no way to see what the type size looks like until you re-launch the app. At least you can adjust the body text field with your thumb.
Oh, and if you want to read the sports page, that's a different application entirely.
Perhaps most revealing of the attention to detail that Tribune Interactive put into the app is that it appears as "L.A. News" on the iPhone's app menu screen and under the preferences menu. News, Times… eh, who cares? They'll all be in receivership by Christmas anyway.
L.A. Times News Reader is compatible with any iPhone or iPod Touch running the iPhone 2.x software update or later.
[Ben Boychuk is a freelance writer and columnist in Rialto, CA. Feel free to e-mail him.]