At a Glance
Expert's Rating
Pros
Nice GPS display and data entry
Multimedia player, e-mail client and Web browser
Cons
Connected features require Wi-Fi or a phone
Mediocre multimedia playback, e-mail support
Our Verdict
Put a GPS navigation system into an ultra-mobile PC, and you have a pretty good idea of what Clarion delivers in the ClarionMind NR1U. At first glance, with a display measuring 4.8 inches, it looks like a largish personal navigation device (it comes with a car charger and a dashboard mount), but navigation is only one of more than a dozen options on its scrolling, icon-based touchscreen menu. Others include a Web browser, e-mail, music and video players, and direct links to YouTube and MySpace.
At $250 for the lot, the ClarionMind may sound like a huge bargain. But there's a big gotcha: You're responsible for providing Internet connectivity for the features that depend on it—and those are everything but GPS. The device offers numerous connectivity options, both wired and wireless; parked in the garage, you might get by with a Wi-Fi hookup (setting that up is pretty easy). But on the road, you'll need a phone with data service (preferably a 3G one) to serve as your modem, and network support for its use that way, either via a USB cable or a recent version of Bluetooth that supports dial-up networking. Some carriers don't support tethering, or charge extra for it, so you need to check with your carrier before spending money on a lot of features you won't be able to use. (Last week, Clarion released a firmware update that allows you to connect a wireless 3G Internet modem using USB, like AT&T's USB Connect QuickSilver.)
GPS is accessible regardless of network connectivity, and the ClarionMind boasts a pretty good GPS navigation system with Navteq maps. The large display helps, offering plenty of space for useful information such as current speed limit and estimated time of arrival. The device's 800GHz Intel Atom processor makes it fairly snappy in its responses. Another plus is the text-to-speech technology that allows the voice directions to provide actual road names ("turn left on Main Street" instead of "left turn ahead"). This can be a huge aid in unfamiliar territory, even when the computer voice mangles pronunciations.
I liked the data entry system, which hones in on possible choices as you select letters on the software keyboard. So, for example, if you type the letter M in the state field, you immediately see buttons with the names of several states that begin with M, and the only keyboard letters displayed are ones that would complete the names of all states beginning with M.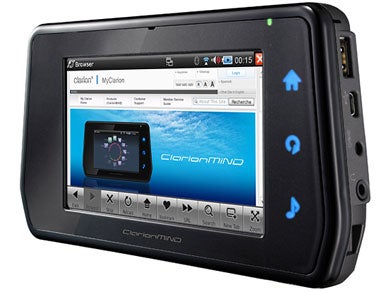 One of the coolest features is the ability to instantly receive points of interest (POIs) plotted from Google Maps on any computer. Simply find the place you're looking for and click on Send and then GPS on the options that come up on the map. Clarion appears on the list of GPSs; select it, then enter the e-mail address associated with your device (you set that up when you register). Then, back on the device (once it's been connected), click on a button that updates and synchronizes data, and each of your destinations should appear as a Downloaded POI. It's a good way to enter trip data via a home Wi-Fi connection.
Of course, if you connect the device while on the road, you can use it to perform Google Maps searches on the fly—and you may well want to do so, as the unit's 2-million POI database is skimpy compared with those in other dedicated car GPS devices. Also, searching the preinstalled points of interest was sometimes frustrating. Several times, when I tried looking for a specific restaurant I knew to be in a specific town, the software keyboard did not show the keys required for entering the name of the restaurant, even when the place turned up in a general restaurant search for the town.
The connected ClarionMind also delivers news updates from CNN (you can click to read stories), traffic updates, and YouTube videos. It also has a microSD slot; Clarion expects you'll use it to load a card that you provide filled with your favorite tunes for playback on the Real Player application (you can also stream from sites such as Music Locker). In general, though, I found multimedia playback to be mediocre at best. The device's speaker, located in the back, tends to become muffled when the device is docked in the car, and even when it's not mounted and set to top volume, it's just not very loud. YouTube video playback was jerky over my Wi-Fi network, and the screen was dark in daylight.
E-mail, after a somewhat complicated setup routine, worked well. But you can't import an address book into the contacts (as opposed to adding them manually one at a time). The browser also worked well; I was pleasantly surprised to see that it supported Flash, but disappointed when I was unable to enter my user ID and password to log in to a Flash-based game site (the software keyboard didn't pop up). A Clarion official said the device supports only Flash media, not interactive Flash apps.
One big minus for many who plan on connecting the ClarionMind via a Bluetooth phone: Even if your network lets you make voice calls while accessing data, the ClarionMind won't. It doesn't support hands-free calling, which is rapidly becoming a checklist item for a computer in a car.
Macworld's buying advice
Overall, the Clarion MiND as shipped is a pretty good GPS device that gets even better if you can connect it to the Internet while driving using a Bluetooth phone and a network that supports tethering. But as a UMPC, the Clarion MiND is just so-so. I can't help thinking that many of its functions (most notably e-mail) can be handled adequately or better by the data-capable phone you'd use for tethering.
[Yardena Arar is a contributing editor for PC World.]