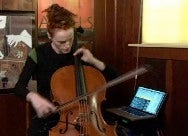 I like to call myself a musician and I also like to call myself a geek. But sometimes I happen upon people that make me feel like a downright poseur. One of those guilty of crimes against my ego is Zoe Keating, who combines mad classical cello skills with mad Apple Script skills in order to create hypnotic, layered, musical compositions that sound like a cross between Steve Reich and Kronos Quartet.
Using her MacBook Pro with popular music software Ableton Live and SuperLooper, Keating modifies this potent software combo with some "nasty" Apple Script that allows her to control the looping of live musical phrases with her feet, via MIDI signals from a foot pedal board. That she was an information architect during the dot-com boom should come as little surprise, considering the amount of tech savvy needed to pull off such an elaborate yet elegant setup.
In a video interview with Wired.com, Keating takes the geek-musician act even further by comparing musical phrases to pieces of information with metadata, and comparing the composition writing process to Web site planning and design. It's fitting that she describes her music as a "fusion of information architecture and classical music".
Check out her video interview and live performance clips at Wired.com. This is some truly inspiring stuff for the Mac-based musician and for music lovers in general.