At a Glance
Expert's Rating
Our Verdict
Every once in a while, I realize there's a great piece of inexpensive software I've never covered in Mac Gems, despite having used it for years. WakeOnLan is one of those products. This nifty utility lets you remotely "wake up" sleeping computers.
Why would you need this feature? To conserve energy, I sleep my desktop Mac whenever I'm not actively using it; for example, if I'm in another room working on my laptop. But what if I realize I need to access, over the network, some files stored on the sleeping Mac? It turns out there's a feature called Wake On LAN, supported by all recent Macs with an Ethernet port, that provides a mechanism for waking a computer that's in sleep mode. Explained briefly, the sleeping computer's Ethernet port continually watches for a special network signal called—no joking—a Magic Packet. If such a signal is detected, and it contains that computer's MAC address, the computer wakes up. (On a Mac, you enable this feature by checking the "Wake for Ethernet network administrator access" box in Energy Saver preferences.)
WakeOnLan makes it easy to send this Magic Packet to a particular Mac. When you first launch the program, it scans your local network for devices and displays each device's name, type, IP address, and MAC address, along with whether or not each device is currently awake. Select the computer you want to wake and then click on Wake Up; in a few seconds, it will be up and running and any sharing services you've enabled—File Sharing, iTunes Sharing, and the like—will be available.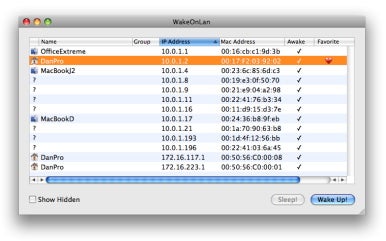 If, like me, you've got a network with lots of devices, you can manually hide those you don't want to appear in the display; for example, AirPort Base Stations and Macs that connect only via wireless (more on the latter below). For each device, you can also manually change the display name or type; edit the MAC- and IP-address information; and include informational notes.
You can also manually add computers and devices to the list and schedule wake-up events. The current version of WakeOnLan even lets you put Macs back to sleep when you're done using them. (For this feature to work, you must first enable Remote Login and Remote Apple Events in Sharing Preferences on the remote Mac.) WakeOnLan's Dock menu lets you wake or sleep computers without having to switch to the program, and power users and network administrators will appreciate a number of more-technical options. If you're a Dashboard fan, WakeOnLan includes a widget that offers a subset of the program's features for quick access.
Now for the caveats, which aren't really the fault of WakeOnLan. Because Wake On LAN (the technology) depends on Ethernet hardware, you can use WakeOnLan (the program) to wake only those computers connected to your network via Ethernet—it can't wake computers connected via WiFi. (The computer running the WakeOnLan program can be connected via WiFi; the Ethernet limitation applies only to the sleeping computer.) In my experience, this hasn't been a major issue—I'm usually trying to wake a sleeping desktop computer—but if you need to wake a laptop, you'll want to connect an Ethernet cable to the laptop.
Also, while Wake On LAN technology works great on a local network, it's subject to the same limitations and obstacles as other remote connections when it comes to accessing computers over the Internet and behind routers and firewalls. Which means you can do it, but it takes some network finessing.
Want to stay up to date with the latest Gems? Sign up for the Mac Gems newsletter for a weekly email summary of Gems reviews sent directly to your Inbox.