Of all the guitar apps available on the App Store, Frontier Design's iShred: Guitar + Effects is my favorite. Besides providing a virtual fret board where you play chords and individual notes, the app also features an amp simulator and a plethora of pedals, such as Fuzz, Wah, and Chorus.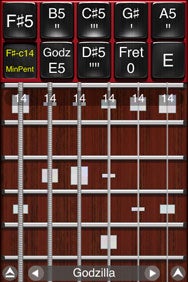 Unlike other guitar apps I have used, where you finger chords in similar fashion to a real guitar (with varying degrees of fumble-fingered-ness), iShred provides a library of around 2,000 pre-defined chords and scales which you configure in an area above your virtual fretboard. Then, after you've selected your desired amp and effects, you're ready to jam. While holding down the buttons above your fretboard, you can play chords and melodies and, with some practice, you can even do bends, hammer-ons and pull-offs. (The effect is similar to an autoharp for those of you who may remember that instrument from grade school music class.)
Fair warning: This app is not for anyone with a short attention span. There are lots of options available, so the learning curve is higher than some of the other guitar apps out there. This is actually an advantage because it allows practiced users to produce what could be considered "real" music. You can record the songs you create, play along to songs on your iPhone or iPod touch, and you can even share your songs with other iShred users via a service called AirPlay. Some sample songs are included with the app and the developer's Web site is a great resource for video tutorials and examples.
So, this is a terrific app, as long as you're willing to put in the time and effort to learn your way around it. Just make sure you have enough time in your day because, if you like to make music, you can easily get lost in iShred for hours at a time.
iShred: Guitar + Effects is compatible with any iPhone or iPod touch running the iPhone 2.x software update.
[Brian Beam is a guitar player, Robin Trower fan and Web developer at BOLD Internet Solutions, living somewhere near Kansas City.]