At a Glance
Expert's Rating
Our Verdict
[Editor's note: The following review is part of Macworld's GemFest 2009 series. Every day until the end of June 2009, the Macworld staff will use the Mac Gems blog to briefly cover a favorite free or low-cost program. Visit the Mac Gems homepage for a list of past Mac Gems.]
Longtime Mac users—at least those on the platform since Mac OS 8.5—will remember the "classic" application menu. Unlike OS X's Dock or its keyboard-based application switcher (a horizontal panel of application icons), the switcher pre-OS X was a vertical menu anchored to the right-hand edge of the menu bar. This made it a snap to use with the mouse; just fling the cursor to that corner of the screen, click, and the menu of running programs would appear, letting you quickly switch to any one of them.
With the release of Mac OS X, however, the application menu disappeared, replaced first with a clock (in early versions of OS X), and eventually with the Spotlight icon. (These days when we talk about an "application menu," we mean the one to the left-hand side of the menu bar, named after whatever is currently the active application.)
For those who miss the OS 8/9 approach, two programs aim to fill the void. They're very similar, because at one time, they were actually the same program. First on the scene, years ago, was ASM . ASM was originally free and open source, but after version 2.0.2, it became a $16 shareware application. The second was the free (and open source) multiXFinder .
At first glance, multiXFinder appears nearly identical to ASM, and there's a good reason for that: multiXFinder was created using the source code of the final open-source version (2.0.2) of ASM as a starting point. (This is how open-source code is supposed to work, so there's no theft involved.)
Not surprisingly, the programs look alike and work in a similar manner. Each installs as a System Preference pane, and each adds an application-switching menu immediately to the left of the Spotlight icon in the menu bar. Click the icon, and you'll see a list of running applications as well as a few additional entries; choose any program in the list to switch to it.
In addition to switching apps, both programs let you hide other apps when switching (sometimes referred to as single-application mode), and you can exclude specific programs (iChat, for instance) from being hidden in single-application mode. Other common features include the ability to control the appearance of the menu-bar icon and title; to choose whether to show application icons, names, or both in the menu; to dim icons of hidden applications; to specify a fixed or variable menu width and alignment; and to choose which additional options appear in the menu.
So what distinguishes the two programs, given how much feature overlap they have? The biggest functional difference between the two is that ASM includes—when using the program in OS X 10.5—the useful ability to display each program's Dock menu as a submenu in the ASM menu. Given that the ASM menu includes only running applications, this approach is easier than locating a running application's Dock icon, especially if you keep many nonrunning applications in the Dock.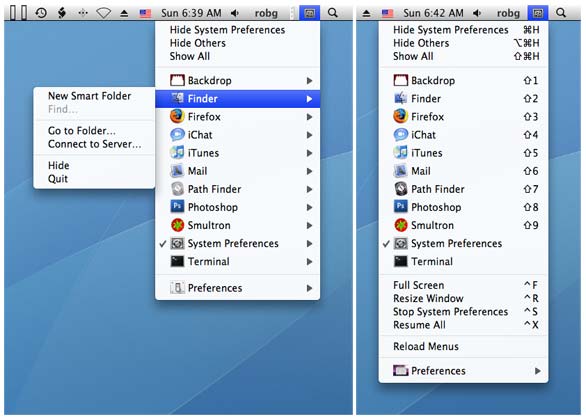 MultiXFinder lacks ASM's useful Dock submenus but adds a few features of its own. The most notable is the ability to disable the Spotlight icon on a per-user basis. This means that if you really miss having the program-switching menu anchored to the right-hand edge of the menu bar, you can put it back there (at the expense of the Spotlight menu, of course). However, in my testing this feature was a bit unreliable. Sometimes toggling the Spotlight icon off wouldn't turn it off; I'd have to toggle the setting a second time. And even if you successfully disable the Spotlight icon, opening the Spotlight pane of System Preferences restores it.
MultiXFinder's menu will also display background processes if you hold Shift and Control while activating the menu—but since you can't switch to a background process, this feature is more informational than practical. And by enabling an Advanced Features option, you get new menu commands that let you expand the active application's frontmost window to fill the screen and (more interestingly) stop or start the application. The latter feature is different from quitting and relaunching; it uses Unix features to actually "pause" the current program, literally freezing it so it doesn't use any processor cycles or respond to any input. Once you "restart" the program, it will act normal again. If you have a CPU-hungry application that you'd like to keep running but not actively use CPU cycles, stopping it is a good solution (and one that's supported by the OS, so this isn't a hack).
Finally, multiXFinder can assign shortcuts to the first nine entries in the menu, letting you switch to one of those apps using the keyboard. Unfortunately, this feature is largely useless, as the menu must be visible for the shortcuts to work—and if the menu is visible, that likely means you already have your hand on your input device and the cursor is already on the menu.
So which should you use? Both worked well in my testing, but I preferred ASM due to its inclusion of each application's Dock menu. If you don't need this feature, multiXFinder works just as well and won't cost you a penny.
Want to stay up-to-date with the latest Gems? Sign up for the Mac Gems newsletter for a weekly e-mail summary of Gems reviews sent directly to your inbox. You can also follow MacGems on Twitter.
Our 186-page Mac Gems Superguide is a veritable greatest hits of Mac Gems. It's available as a PDF download, PDF on CD-ROM, or as a printed book. Learn more about the Mac Gems Superguide.
[Rob Griffiths is a senior editor for Macworld.]
Note: When you purchase something after clicking links in our articles, we may earn a small commission. Read our affiliate link policy for more details.