Fact is, Nikolay Nachev's 3000 Awesome Facts Pro is a nifty trivia app for the iPhone and iPod touch. I'm not entirely certain why the app bears the "pro" appellation, however. Perhaps, as with "deluxe," some developers believe the word means something it does not. I imagine 3000 Awesome Facts will appeal to bar and café patrons, salesmen, blind dates, grocery clerks, grifters, and other raconteurs, professional or otherwise.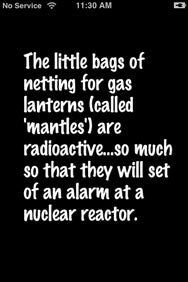 The elegantly minimal, easy to read white-on-black interface is marred only by the use of the Comic Sans typeface, the worst type ever let loose on mankind. You can either scroll up and down or tap the screen for the next fact to appear. A recent update added the ability to turn the app's randomization feature on and off, which seems like a strange addition since the facts seem pretty random as presented now. More useful would be a search function, which is also reportedly in the works for a future update.
Are all 3,000 facts on 3000 Facts factual? Beats me. Most facts I read are of the "I-can't-believe-that's-really-true!" variety, a few are highly debatable, and some I couldn't source at all. I found one obvious and easily verified howler: Winston Churchill was definitely not born in a ladies' room during a dance. Otherwise, most of the app's facts were obviously culled from WikiAnswers and other sites, though not necessarily run past Snopes.com.
Be that as it may, 3000 Awesome Facts offers ample quantities of fun. It's nothing if not a conversation starter. According to 3000 Awesome Facts' App Store page, a price hike to $2 is planned, so schedule your buying decisions accordingly.
3000 Awesome Facts Pro is compatible with any iPhone or iPod touch running the iPhone 2.x software update.
[Ben Boychuk is a freelance writer and columnist in Rialto, Calif. Feel free to e-mail him.]