At a Glance
Expert's Rating
Our Verdict
[Editor's note: The following review is part of Macworld's GemFest 2009 series. Every day until the end of June 2009, the Macworld staff will use the Mac Gems blog to briefly cover a favorite free or low-cost program. Visit the Mac Gems homepage for a list of past Mac Gems.]
Do you find the standard OS X Address Book too limiting? If so, BdContacts might be just the solution for you. At its simplest level, BDContacts presents alternate views of your Address Book entries, offering an easily sorted multi-column table view, an outline view, and even a shelf where you can drag frequently used contacts (and other items) for quick reference. When running, BdContacts includes an icon in the menu bar; click it to quickly show or hide the main BdContacts window. This icon, however, disappears when you quit BdContacts, so you can't use it to launch the program.
Once you go beyond the basics, though, you'll find that BdContacts lets you easily associate additional data items to your contacts. You can add notes (distinct from the Notes field in Address Book), to-do items, alarms, e-mail messages, documents, and even photos to any contact. You can have multiple items, too–so you could, for instance, add a series of date-stamped notes to a contact's record.
It's important to note that these additional data items reside solely within BdContacts. While you can edit basic Address Book fields in BdContacts (and those changes will then be shown in Address Book), these extra data items only exist within BdContacts. That's true even for to-do items, which won't get synced out to iCal.
Each of these data items can have multiple fields associated with it. When you create a to-do item for a contact, for instance, you can specify a title, context, category, priority, label, completion status, due date, and Web link to go along with it, along with alarm options and multiple keywords. Similar choices exist for alarms and notes.
If you think all these options might make for a complicated interface, you'd be right. The main BdContacts window is divided into four sections, and there's a lot of information packed into each. There's so much information, in fact, that the interface is BdContact's biggest shortcoming. Because of space constraints, the buttons at the top of many columns (used to sort those columns) are miniscule, making them hard to hit. There's a confusing mix of colors, text boxes, and buttons, all of which are competing for your eyes' attention.
The complexity extends to the program's preferences, where there are roughly 60 different options to set. There's also a restore feature that lets you undo one (or some, or all) of the changes you've made. To help with all this complexity, BdContacts includes an excellent manual, as well as a number of very useful help videos that show how to use the program's key features.
BdContacts is a single-machine application–there's no way to share your enhanced contact information with another Mac. Given some of the tie-ins to local documents and e-mails, I can see how this would be problematic. Still, if you have a desktop and a laptop, this restriction could be an issue if you've come to rely on BdContacts and then need to go on a trip.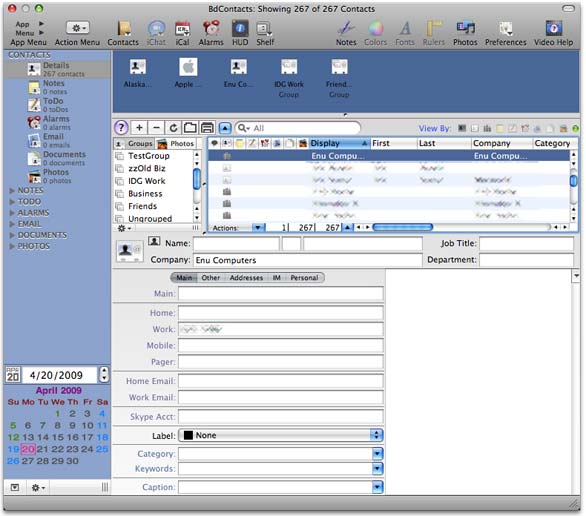 If you can get past the interface complexity, BdContacts is amazingly feature rich, and demonstrates how powerful a contact management program can be. The program has a 12-day trial period, so you can test out its interface and features before making your buying decision.
Want to stay up-to-date with the latest Gems? Sign up for the Mac Gems newsletter for a weekly e-mail summary of Gems reviews sent directly to your inbox. You can also follow MacGems on Twitter.
Our 186-page Mac Gems Superguide is a veritable greatest hits of Mac Gems. It's available as a PDF download, PDF on CD-ROM, or as a printed book. Learn more about the Mac Gems Superguide.
[Rob Griffiths is a senior editor for Macworld.]