LaCie has introduced the Big Disk Network and d2 Network — network-attached servers for workgroups. The d2 Network is available starting at $190 while the Big Disk Network costs $380.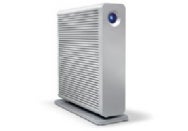 Both systems share many common features: They can back up to external hard disks using USB 2.0 or eSATA, work with Time Machine, and can stream multimedia content to a Universal Plug and Play (UPnP) or DLNA-compatible player. They also works with iTunes. They connect to the network using a Gigabit Ethernet jack.
Supported protocols include Bonjour, SMB and AFP and remote connections using FTP, HTTP and HTTPS. Intego Backup Manager Pro is included to enable each Mac to back up to the device. They support Active Directory, for Windows-based network authentication.
Supporting up to 1.5 terabytes (TB) of storage capacity, the d2 Network features a slim, fanless heat sink design. The Big Disk Network is larger but sports a similar aluminum-clad chassis design; it comes in either 2TB or 3TB configurations.