CCP Games on Wednesday announced that its massively multiplayer online role playing game EVE Online has reached its sixth birthday. Additionally, the game now has 300,000 active subscribers. (That number doesn't include trial accounts, according to CCP.)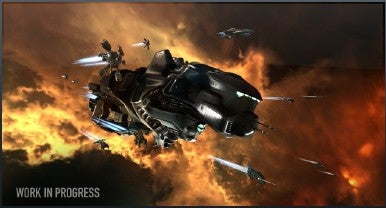 EVE Online, playable on Mac OS X and Windows, is set in outer space, millennia from now and in a region on the other side of the universe. Humans, descendants of colonists who have long since broken off ties to mother earth, pilot massive spacecraft around an ever-expanding region of space on a quest for fortune and glory.
In many ways the spiritual descendant of PC games like Elite, EVE Online has been described as the ultimate "sandbox" game. While in-game characters can assign you missions, it's really up to you as to what you want to do — mining ore, gas and ice for money, pirating other vessels, engaging in massive player vs. player fleet battles, becoming a merchant, manufacturer or inventor and more.
CCP Games noted that EVE Online's last few months have been very successful — the company has seen 22 percent growth in its subscriber base, thanks in part to the release of the latest free expansion pack, "Apocrypha," and the game's re-release in a retail edition (distributed by Atari).
One thing that makes EVE Online different from World of Warcraft and other online RPG's is that all players occupy space on the same server system (called "Tranquility"). Instead of segregating a few hundred or few thousand players on individual systems, EVE Online keeps everyone together on one massive server array. The company has broke its peak concurrent user record three times in 2009, with the high-water mark now set at 53,850 players occupying the in-game universe simultaneously.