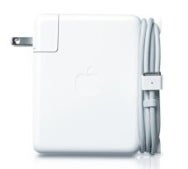 Don't look now, but Apple's got itself tied up in another lawsuit. This time, the fuss is over Apple's trumpeted MagSafe Adapter, which has kept many a MacBook from flying off of tables when clumsy (or, um, otherwise impaired) people trip over the power cords. According to this lawsuit, while the MagSafe might keep your MacBook safe from your intoxicated roommate, it won't keep you or your property safe from a fiery meltdown.
The complaint was filed in the U.S. District Court in San Jose and alleges that both the 85-watt and 60-watt adapters have been negligently designed and manufactured. According to the suit, the cable from the power supply to the MagSafe connector "dangerously frays, sparks, and prematurely fails to work."
The filing accuses Apple of being aware of the problem, but failing either to disclose it or stop manufacturing the devices. Because of this oversight, the plaintiff and the class of MagSafe owners, which the suit suggests is in the millions, are stuck with a ticking time-bomb of flaming destruction.
The complaint also cites the overwhelmingly negative customer reviews of the MagSafe Adapters on the online Apple Store as well as retailer Amazon.com, with most reviews citing problems with fraying wires, shorting, overheating, and melting. Apple has acknowledged issues with fraying MagSafe cords in the past, having even published a Knowledge Base article on the issue and replacing many problematic units regardless of their warranty status.
Nevertheless, the plaintiffs want Apple to either provide a "safe, defect-free Adapter", or, if the company is unable to produce an acceptable unit, refund the full purchase price of the laptops to all members of the aggrieved class.
Apple is no stranger to controversy over its power adaptors, having recalled and replaced 570,000 power adapters for the PowerBook G3 in 2001. What confuses me is why, after over three years of overwhelmingly negative customer feedback for the MagSafe Adapter, Apple has yet to change the design. Maybe this lawsuit will be a wake-up call to the company that people want not just their Macs to last, but also their accessories.
[via Register Hardware]