Without a doubt, the evolution of the word "pimp" from a slatternly to socially acceptable verb is arguably the worst development in the English language of the past decade. Blame MTV and its idiotic Pimp My Ride series from a few years back, which launched a proliferation of pimping, almost all of it ridiculous and now done to death.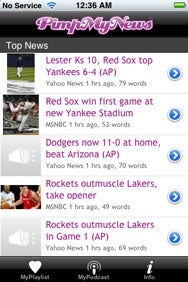 So, from the start, I was predisposed to dislike MediaQuake's PimpMyNews app for the iPhone and iPod touch. If I don't want to "pimp" my ride, why in the world would I want to "pimp" my news? In any event, what would pimping my news entail, how much would it cost me, and would I risk arrest?
As it turns out, the $4 app is much better than the name suggests. Very simply, the app lets you create "playlists" of blog items or news stories from more than 1,200 sources and reads them aloud and on the fly in a voice that's almost lifelike. For people on the move, in their cars, at the gym or multitasking at work, PimpMyNews offers an innovative way to "read" your favorite Web sites by listening.
Read more…
The most appealing feature is the personalized daily podcast—a 10-minute roundup of your 10 favorite feeds. You can also browse your feeds and listen to stories one at a time.
A number of Web sites offer this sort of service now, with varying results. The Press-Enterprise in Riverside, Calif.—where, in the interests of full disclosure, I worked until late 2007—offers a "podcast" version of all its content. There is nothing more dispiriting than to have one's golden prose flattened and drained of all humanity by a soulless robot. And that's just the editing process! But it's even worse hearing a choppy and poorly intonated version read online. I don't know how PimpMyNews does it, but the computerized male and female voices approximate a human reader better than other readers I've heard.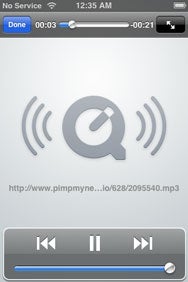 My biggest complaint is that you cannot select the gender of the reader. For some reason, I find the female voice to be a better relaxation tool than Ambiance ( ) or aSleep ( ). That's fine on the couch, but not so desirable on the road—and I know that isn't what the developers had in mind.
The PimpMyNews app has some limitations and a few missing features, chief among which is the inability to add to or manage feeds on your handheld. The app works with the PimpMyNews Web site and requires a Wi-Fi or 3G/EDGE connection. You manage all of your feeds through the site.
Also, you can only subscribe to 10 feeds at a time—way too few. Outside the daily podcast, you cannot listen to a continuous stream of stories. Since many of the top news items are short blurbs from the Associated Press, listening becomes a bit of a chore. MediaQuake President and CEO John Atkinson says a "continuous play" feature will likely appear in a future update.
I asked Atkinson for the story behind the name, which reportedly won out from among about 200 ideas he and his business partner, Roy Georgia, had been kicking around.
"We chose the name PimpMyNews to convey that you can 'personalize and improve' your news with our service," he replied in an e-mail. "We took an 'edgy/tongue-in-cheek' approach with name because it seems to get people's attention and make them want to know more about the product."
Well, that's certainly true. The name is an attention grabber. Hate the name, don't hate the news player, I suppose.
PimpMyNews is compatible with any iPhone or iPod touch running the iPhone 2.2 software update.
[Ben Boychuk is a freelance writer and columnist in Rialto, Calif. Feel free to e-mail him.]