At a Glance
Expert's Rating
Our Verdict
[Editor's note: The following review is part of Macworld's GemFest 2009 series. Every day until the end of June 2009, the Macworld staff will use the Mac Gems blog to briefly cover a favorite free or low-cost program. Visit the Mac Gems homepage for a list of past Mac Gems.]
Typically, while using your Mac's iSight camera with one program, you can't use it with another. But ManyCam frees iSight from this restriction. ManyCam's no one-trick pony though; it has other features–some helpful and others downright silly–that you'll enjoy.
ManyCam works by acting as the video source for your chat or video recording programs. Instead of selecting your iSight as the source in your chat or video recording program, you select ManyCam. ManyCam then captures the video from your iSight. You can launch, for example, Skype, SightSpeed, and Yahoo Messenger and video chat with someone on each at the same time. While you're at it, you can also go to YouTube and record a Quick Capture. Unfortunately, ManyCam's biggest flaw is that it doesn't work with Apple programs like iChat, iMovie, and Photo Booth that tap into the iSight.
The app launches like any program but appears only as a menu-bar icon. To set up ManyCam, you choose Video Sources from the ManyCam menu-bar icon, then choose your Mac's camera. The software offers extra features like zoom, pan, color adjustment, grayscale, and image rotation and flipping. If you're feeling creative or goofy or don't love the way you're looking on camera, click Effects, then choose a new look. I like what's under Effects -> Links.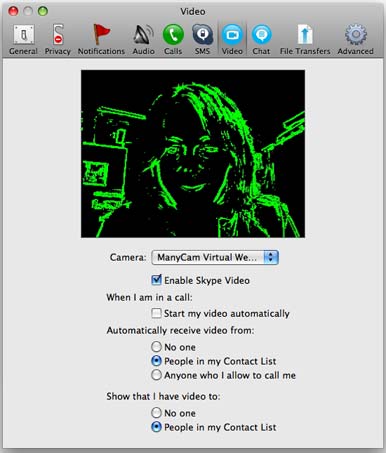 ManyCam lets you display far more than just your camera's video. For example, you can display your Mac's desktop in full or a portion, and even zoom in. It's not as elegant or functional as Leopard's iChat Screen Sharing, but it may come in handy in a pinch.
The documentation is currently Windows-based, but the developer will likely catch up on Mac docs soon, making it easier to get started. And it's free–always a plus. Besides, kids will have fun with the effects.
Want to stay up-to-date with the latest Gems? Sign up for the Mac Gems newsletter for a weekly e-mail summary of Gems reviews sent directly to your inbox.
Our 186-page Mac Gems Superguide is a veritable greatest hits of Mac Gems. It's available as a PDF download, PDF on CD-ROM, or as a printed book. Learn more about the Mac Gems Superguide.
[Deborah Shadovitz is a Web designer and the author of Adobe GoLive 5 Bible (IDG Books, 2001), penned Mac Design's GoLive column, and was a contributor to SBS Design.]