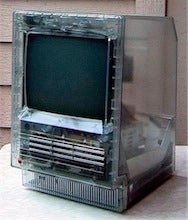 If someone were to ask you, "What Macs were the first to feature transparent plastic cases," no one would blame you for answering, with confidence, "Why, the iMac, of course!" Sadly, you would be mistaken.
Let me be clear (HA!) that I don't know the answer to this particular question either, thanks to this clear Macintosh SE. It is one of about 20 such SEs that were molded with clear plastic cases back in the day to make sure that the internal components were laid out correctly. Who is to say Apple didn't use this method on earlier Macs, thereby being ahead of its own time with its own products. (That takes talent, my friends.)
Before you ask: No you can't buy this clear SE but you can buy a nice print of it to decorate your office wall and mystify your fellow Mac geek friends. The poster costs $19.95 but learning a little tidbit of Apple history is priceless.
[via Retro Thing]