Let's face it; not every game that comes to Apple's iPhone and iPod touch handsets is going to embody a "Masterpiece Theater" level of intelligence and sophistication. Which shouldn't imply that those that don't aren't completely fun and addictive. Enter GI Joyride, a side scrolling driving game by Trapdoor.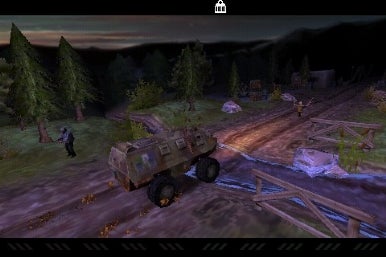 Set in World War II, this game puts you in control of an Allied amphibious vehicle that you use to tear through enemy lines, leaping off hills, plowing through barricades, vaulting off rooftops and squashing any German forces that get in your way. It's the spiritual successor to ancient coin-op arcade games like Moon Patrol.
As simple a premise as this may be, it's executed well. Detailed models, gritty textures, fluid animations and a steady frame rate make the vehicle feel as it though it's careening through the countryside with the driver barely in control. Realistic sounds and a nifty 40's jazz score combine to bring a convincing audio presence to the game (especially through the iPhone's single speaker). Here, you can hear the engine hum, the bullets bounce off your vehicle's armor, the "splat" of whatever you just hit and the muffled thud of the vehicle landing and beginning to regain its speed.
A simple yet robust physics engine helps the game and makes it almost completely addictive. During your chaotic high-speed jaunt, the only major concern is flipping the vehicle, which allows enemy artillery time to target and destroy you and your crew. Overturning the vehicle can be prevented by tilting the iPhone or iPod touch from left to right as you play, counterbalancing the jostling caused by the jump and the landing.
Combine this with accelerating and decelerating at the right moments and you can pull yourself out of almost any situation. It's a strange system, but if you can find the sweet spot of the vehicle in which to balance the weight (typically a little ahead of the nose), you can stick almost any landing and keep barreling along without having to slow down.
It's the dark sense of humor that sells the game. Do well and a quick-paced, catchy jazz tune will accompany a message telling you how your crew returned home victoriously. Die quickly and the message will mock you, mentioning how your crew kept the enemy's camp spotless upon capture or worse while a slow jazz song plays. Other fun touches include unabashed cries of "Yippee!" and "Yee-haw!" when your vehicle makes an impressive jump or bonus points rewarded for when your vehicle flips over multiple times, yet still manages to remain upright and running.
Despite needing a bit more varied terrain to drive through (or even some power-ups to make gameplay and tactics more interesting), the application runs like a dream and the couple minutes you were going to give it becomes 10 or 15 minutes until life actually intrudes upon your game.
That being said, there's a vehicle to drive across the countryside and Axis forces to squish in the process…
GI Joyride Requires iPhone OS 2.0 or later to install and run.
[Chris Barylick is a frequent contributor to Macworld. And yes, he would probably recreate the events of GI Joyride provided he was granted a time machine, an amphibious vehicle and a stretch of occupied Europe to tear through.]