Cross-platform titles are typically only released by big publishing houses with sweeping marketing campaigns and long development cycles. Only recently have we seen an attempt to launch serious browser based games that can be enjoyed both on the Mac and the PC. Instant Action.com is that rare site that offers free high-end browser-based games to gamers of all walks of life. More than 2-D flash titles, these titles offer 3-D graphics and a diverse gaming experience.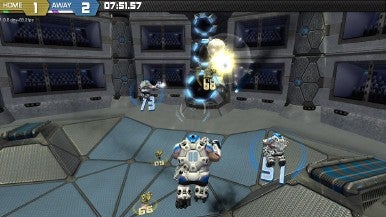 First, the good news is that Mac users have access to all of the titles on the website. From Marble Blast Online to Rokkitball, you can play it all and depending on your connection speed, starting up a game only takes a few seconds. Though these are all pretty standard multiplayer games that you've likely seen in other forms, their status as cross-platform (and free) makes them worth a minute of your time to check out. In its varied lineup, Instant Action offers 3-D puzzlers, futuristic first person shooters, tank combat simulators, and 2-D action games.
While system requirements vary from title to title, Instant Action's core requirements cal for an Intel-based Mac running Mac OS X 10.4.11 or 10.5.4 or later, Safari 3.1.2 or Firefox 3.0.1, 512MB RAM and Internet access.
Unfortunately, in order to have a strong multiplayer game, you need a strong community behind it. Currently, the game lobbies are like wandering through a digital ghost town. A populated set of servers could go a long way to entice more players to come. So why aren't they populated?
Taking Fallen Empire Legions as an example, I guess I'd have to say it's trying to sell a product that everyone else has already bought someplace else. It's hard to get people excited about a free cross platform first person shooter when the graphics aren't of the same level as Team Fortress 2, Counterstrike: Source, Call of Duty 4, et al. Hell, I'd even play Unreal Tournament or Quake 3 Arena instead of Fallen Empire Legion.
As a general rule, the major titles for the site are cheaper knock offs of games you want to play. While high end games are well-crafted units, the games at Instant Action come off as the cheap prizes you win at carnivals. They look like real games on the surface until you're up close and realize there isn't much to them.
Rokkitball I applaud for being an original idea, or at least one that people aren't used to. The game is a 3-D multiplayer where you have to guide a ball into an enemy's goal. The catch is that the player with the ball is temporarily unarmed, and everyone else has a rocket launcher they can use to stop the opposing player. The game becomes part team-based FPS and part soccer simulator and was a good thirty minutes of fun.
But as fun as Rokkitball is, it's hard to guess the intended audience. Sports fans? FPS fans? Both? The other games on Instant Action seek to similarly bridge the gap between divergent gaming niches, like casual and hardcore gamers, and the results are likely to be missed by both groups.
Steve Meretzky, one of the leading voices of casual gaming, describes casual games as historically being "easy to start, free or inexpensive, reveal complexity gradually, not frustrating, offer non-violent themes and have short-play sessions." All of these qualities describe the games on Instant Action, with the exception of the non-violence rule. Yet, the graphical complexity is superior to most casual games and the games' content is focused on genres more associated with hardcore games than casual.
The site's unclassifiable games make them unique, but also lacking in qualities necessary to capture certain shares of the market. Fallen Empire Legion, for example, strikes me as a watered-down version of Tribes 2. But trotting out such knockoffs won't likely draw many of the hardcore crowd. The games aren't complex or original enough to appeal to the hardcore game demographic so they need to stay attractive enough for the casual game audience. And while the last few years have proven that casual gaming is a growing industry and casual games don't necessarily have to be kid-friendly, brightly-colored fluff, I don't know if casual gamers are willing to pop in to Instant Action to spend their time on declawed 3-D action titles.
If some of these games ring familiar, it may be because Instant Action is the work of GarageGames, the purveyors of the multi-platform game development technology Torque Game Engine. Marble Blast, for example, was a free game included on some shipping Macs for a while. And others, like Think Tanks, have been around as Mac shareware for years.
Only launched in the last couple of months, Instant Action still has vast potential for growth. More titles will attract more users, and bigger communities tend to attract even more users. Though the lineup currently is inconsistent, Instant Action deserves credit for producing games that are a step above casual offerings and yet still are easier to pick up than most hardcore titles. As gamers become less classifiable and more diverse in their interests, Instant Action's strategy may look better and better with time.