With immediate access to the latest news, as well as blogs and podcasts, you never have to feel disconnected these days. In fact, in most cases you can customize exactly which headlines end up on your screen so you only get the news you're interested in. Here are a few of our favorite ways to stay in the loop.
Update your blog
Although most major blog platforms let you post to your blog via e-mail (you may need to change your blog settings or add a plug-in to do this), you're limited in what you can do. For example, you may not be able to send pictures via e-mail, your formatting options may be limited, and if you make a typo you won't be able to edit the post without resorting to the Web interface. A better option is to use an app specifically designed for the task. For a full-featured blogging client that works with just about any service, try IllumineX's iBlogger ( ; $10). iBlogger displays your 11 most recent posts and lets you edit them or delete them entirely. It can even manage multiple blogs. When updating your blog, you can easily post pictures, add categories and tags to entries, and tag your post with your current location, thanks to the iPhone's location services.
Listen to podcasts on demand
If you run out of new podcasts to listen to while you're away from your computer, there's no need to do without. While most Web sites don't stream audio or video in iPhone-friendly formats, the iTunes Store application offers instant gratification. The app lets you not only download new podcasts, but stream them, so you don't even have to wait for them to finish downloading before you start listening. Just open the application, select Search from the toolbar, and enter the name of the podcast. You can download a podcast just as you would a song, by tapping on the Free button and then on Download, or you can play any episode immediately by tapping on its title. The iPhone's media player will open and start playing the podcast (both video and audio, though the former will take longer to load). You can pause playback or even scrub ahead, though it will take a moment to jump, so be patient.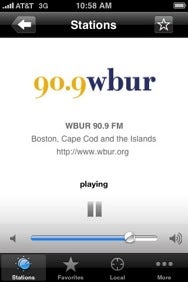 Stream the radio
While the iPhone can store plenty of media, sometimes you want to listen to something you don't have on your iPhone, such as the local news when you're out of town.
The free NPR Addict app from Pass Time Software offers access to recently aired episodes of popular shows from National Public Radio stations, such as A Prairie Home Companion and All Things Considered. American Public Media's free Public Radio Tuner, on the other hand, can use your location to stream live audio content from many different public radio affiliates.
If you prefer a music station, try Weather Underground's $6 Wunder Radio , which lets you stream audio content from conventional radio and Internet sources.
Get your news fix
If you're a news junkie, you probably already have an RSS reader that keeps track of your favorite news feeds and delivers the latest headlines to you. If not, we recommend NewsGator's free NetNewsWire ( ), which allows you to sync your feeds with the desktop version of NetNewsWire as well as download them for offline viewing.
To reduce the amount of noise you have to filter through, consider foregoing (or supplementing) your RSS regimen with Marco Arment's free Instapaper ( ). It lets you mark stories of particular interest from your desktop's Web browser and have them download to a companion iPhone app. (For multipage Web articles, save the print-friendly version, if one's available, to make sure you get the whole piece and not just one page).
What are your favorite ways to stay in touch with the iPhone?
Note: When you purchase something after clicking links in our articles, we may earn a small commission. Read our affiliate link policy for more details.