Elgato on Friday introduced Elgato Video Capture, a new device that enables Mac users to transfer analog video to H.264 or MPEG-4 video files. It costs $100.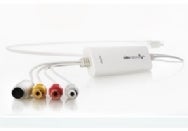 Elgato Video Capture includes a USB 2.0 interface that enables you to record from composite video or S-Video interfaces, along with analog RCA stereo audio input. It works with VCRs, set top boxes, camcorders, DVD players and other analog video sources.
Software included with the device records video in H.264 or MPEG-4 format. The kit records NTSC, PAL, PAL/60 and SECAM input video standards and records at up to 640 x 480 resolution. You can select between 16:9 or 4:3 aspect ratios and trim the beginning and end of recordings.
Elgato Video Capture requires an Intel Core Duo processor, Mac OS X 10.5.6 or later, QuickTime 7.6 or later and iTunes 8.1 or later.