Nova media on Friday announced an update to launch2net, its software for connecting Macs with mobile data services. Launch2net costs $50.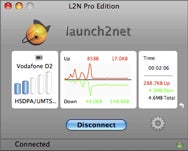 Launch2net is sold in tandem with a number of cell modem devices and is also available separately. The software enables you to configure your Mac to work wirelessly using cellular service providers' data networks, and is configured to support a wide number of devices with data networks in operation around the globe.
The new update adds the ability for users of BlackBerry Storm 9500 cell phones to "tether" their device as a cell modem for the Mac. What's more, you can do so through Bluetooth, wirelessly connecting your Mac to a cell data network through your phone. The software supports Internet connects for the Mac at up to 7.2 Megabits per second download speed (depending on the carrier and service area).
Launch2net also provides advanced statistical information, such as the time spent online, data volume transmitted and received, and sports connection preferences like auto-connect or the ability to disconnect after a certain period of time or once a specific data limit has been reached.
System requirements call for Mac OS X 10.4.11 or Mac OS X 10.5.2 or later, a supported device and a supported network carrier.