Upgrading a pro-level application can be difficult for both the company that makes it and for those who use it. Don't add enough new features and people will say the upgrade isn't worth it, but if you change too much, you run the risk of alienating your core users.
This is the dilemma that Digidesign faced when updating its market-leading digital audio workstation, Pro Tools. Digidesign was very careful when it released Pro Tools 8, giving users a good balance of features and familiarity.
One of the features I was looking forward to the most is comping. Pro Tools now lets you loop record to playlists and then piece together—or comp—the best bits from each take. It's a great way to put together the best parts of a guitar solo or even fix a specific phrasing or missed note.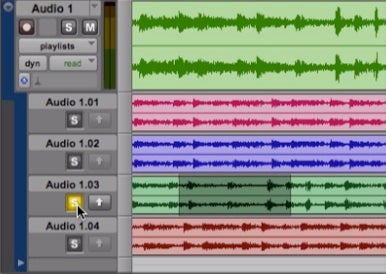 To begin comping a track you need to put Pro Tools in Loop Record mode and make sure the preference setting is checked to create a new playlist in loop record mode. Click on record and start playing, doing as many takes as you like. You'll notice that each take is recorded onto a new playlist track, giving you the option to use that take or part of the take later on.
I find the easiest way to go through a comp is to do it in sections, listening to each take to make sure you have the best version possible. If you expand the track you'll see all the different versions of what you just recorded. Highlighting a section and then clicking on the promote button will move that part of the take to the main track.
Once you go through each section of the solo and promote the pieces you like, you have a finished piece of music. Now you can go back and listen to it, making sure there are no pops or other noises where the takes join and that the comp fits your needs. If not, you can always go back and replace sections that you don't like.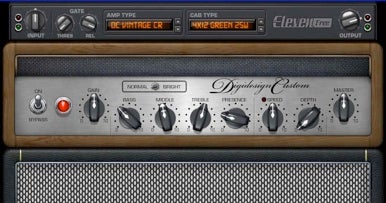 Being a guitar player, Digidesign's Eleven Free plug-in was a big draw for me. I use a variety of guitar amp modeling plug-ins when I record, but I must say that Eleven is very realistic.
Unlike some plug-ins that include a variety of amps and effects, Eleven focuses exclusively on the amp and cab models. The great thing is that Digidesign focused on the right part of the gear—if the amp doesn't sound realistic, it's not going to sound good no matter what effects you put on it.
Eleven Free gives you all the options you need to make guitar tones from vintage and crunch to modern and clean. Overall, a very well done plug-in.
Guitar players weren't the only ones to get plug-ins in Pro Tools 8. Digidesign also included the Mini Grand piano, Boom drum machine, DB-33 tonewheel organ, Vacuum tube-modeled synthesizer, and Xpand!2 sample player.
One of the biggest mistakes some companies make when upgrading their software is to drastically change the user interface, leaving their users lost trying to figure out the changes. This is especially important for an application such as Pro Tools, which has been around for so long and has so many users.
The Pro Tools interface has changed quite a bit, but not in a bad way. The interface is more modern, but also allows for some individual customizations, giving you the ability to configure the workflow for your needs. You can freely move each set of buttons along the toolbar, so you re-organize things at any time.

As it turns out, I chose to leave the default interface the way it was because that's what I became used to on previous versions, but I know others who have changed it quite a bit.
Pro Tools 8 features some much-needed improvements to MIDI editing, too. The more I use instruments like the Mini Grand and drums like Ocean Way, the more I find myself editing MIDI—it is now much easier to see and edit notes or velocity, or do whatever else I need to do.
I did have some crashing problems with the first install of Pro Tools 8, but Digidesign took care of those with updates soon after the release. Other than that, the application has been running fine on my quad-core 3GHz Mac Pro with 8GB RAM and Mac OS X 10.5.6.
The list of new features in Pro Tools 8 is very long, but the company did a great job putting it all together. If you're a new user you will appreciate some of the "getting started" features implemented in this version, and if you're an existing user, the new features will help you get your work done more efficiently.