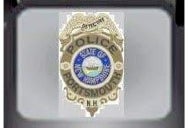 Now here's an idea that might be worth trying out in other cities: Police in Portsmouth, New Hampshire, are putting together an iPod/MP3 player registry to deter thefts at the local high school. Apparently iPod theft has been an ongoing and increasing problem at Portsmouth High School, and the police have had enough, darnit!
The registration will cover any MP3 player owned by students at Portsmouth High School—although I really doubt Zune theft is an issue—and it will work much like bicycle registration: students fill out a form with a description and serial number of the iPod. The iPod is photographed, and the data is filed away in the new registry, ready to be retrieved in the tragic event of theft.
This seems like a good idea, but what it comes down to is how many people actually make use of the registry. My college town had a bike registry to help combat an absurdly high rate of bike theft, but I was left helpless when my bike was snatched in front of my house, as I hadn't bothered to look into registering. After all, no one really thinks they're going to be victims of theft, until it happens.
[Via Cult of Mac]