Nobody can seriously dispute the utility of the iPhone and iPod touch as an e-book platform. In March, Macworld.com posted a readers' guide to e-book apps. I had spent a great deal of time with half-a-dozen e-readers, and I still do a great deal of reading with Kindle for iPhone ( ) and Stanza ( ), which I ranked as my favorite. But the round-up had at least one serious error of omission, however, and that was the absence of any mention of Wattpad.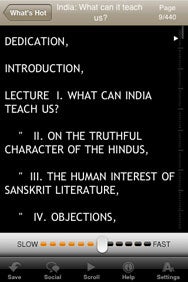 Wattpad happens to be one of the most popular e-book application on the Web, boasting more than 3 million downloads to not only iPhones, but Palm and BlackBerry devices, too. Wattpad is positioned somewhat differently from other e-book services and stores. It's essentially user- and community-driven. Readers upload e-books to Wattpad's Web site and download to their handhelds. Downloading is hassle-free, but you need to register for an account to upload content. Wattpad is a place not just for mainstream fiction and nonfiction, but also short stories, poetry, technical manuals and reams of fan fiction. (Obviously, you take the good, you take the bad.)
Wattpad's free reader for the iPhone and iPod touch is useful, but not beautiful nor as feature-rich as Stanza. You can customize the type size, text and background colors, and select from among 16 typefaces. The app also has a nice scrolling feature, which you can start and pause with a tap and adjust the speed by touching and dragging a bar-button at the bottom of the screen.
One interesting feature of Wattpad is the ability to browse a book without actually downloading it to your device. If you like what you see, then simply tap the "save" button on the bottom left of the screen and the book will save to your library.
Read more…
Beyond that, however, Wattpad's features are fairly Spartan. You cannot search text, for example, and it is impossible to jump chapter to chapter. You can scroll quickly through a book by touching and holding the progress arrow on the right side of the screen, but if you don't know where you are and you don't know where you're going, it's difficult to find your way back to where you started. And you cannot highlight passages or annotate text.
Because Wattpad is so community-oriented, the app includes a few social networking tools. You can e-mail a book recommendation to a friend and rate your favorite titles for the community to see.
Some users have likened Wattpad to YouTube—it's like a YouTube for books! Anyone can post his Kirk/Spock slash fan fic for all to see. But that means there is often copyrighted material available for download along with public-domain works. Several users on iTunes were elated at discovering Stephanie Meyers' Twilight and its sequels available for free download. Wattpad's managers seem to make an effort at policing for copyrighted materials, but they aren't always successful.
But the other downside of user-contributed content is the vast disparity in quality control. Many of the people who were so happy to find Meyers' popular teen vampire stories noted, as an aside, they contained "just a few typos." In my brief experience with Wattpad, I've discovered more than just a few. I've also noticed degrees of difference in the way books are formatted on screen. Ultimately, you get what you pay for, and that doesn't guarantee you will like what you get.
That said, Wattpad often has multiple copies of the same book available for download, some of which are translated into the e-book format better than others. Wattpad rewards the patient browser.
I still rate Stanza the best among e-book apps. But Wattpad's user-friendly (if sparse) interface and community-driven content should give bibliophiles plenty to browse and enjoy.
Wattpad is compatible with any iPhone or iPod touch running the iPhone 2.2 software update.
[Ben Boychuk is a freelance writer and columnist in Rialto, Calif. Feel free to e-mail him.]