Web site managers or bloggers looking for a centralized way to keep tabs on basic Web stats should check out Ego from Garrett Murray. This $2 statistics aggregator supports Twitter and Google Analytics, hosting services Feedburner and Squarespace, and the self-hosted statistics package Mint.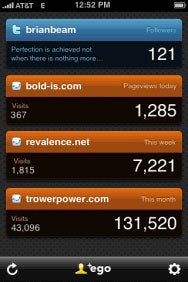 After you install Ego, you go through some very simple steps to set up all the sites you want to monitor. When you're finished, the main screen will display those sites in a color-coded list. For web stats (orange), just tap on the colored bar to cycle among daily, weekly, monthly, and yearly page views and visits. Feedburner stats (red) will show your subscription count while Twitter stats (blue, of course) will display your last tweet, follower count, and tweet count.
What I like most about Ego is what it does not do—rather than trying to display lots of complex Web stats on a small screen, Ego provides just the essential numbers that most site administrators want to know day to day. So when I'm on a phone call or in a meeting with a client, having this data at my fingertips makes me look like a real genius. (Oops, my secret is out!)
Antoine de Saint-Exupéry once said "Perfection is achieved not when there is nothing more to add, but when there is nothing left to take away." While I would like to see the developers add support for other services (Facebook and LinkedIn, for example), Ego's user interface is simple and elegant, and I can't think of anything I would remove.
Ego is compatible with any iPhone and iPod touch running the iPhone 2.2.1 software update.
[Brian Beam is a Drupal web developer and partner with BOLD Internet Solutions, living somewhere near Kansas City. You can help increase his Twitter stats by following him.]