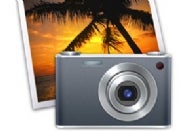 For those who cannot live by a single iPhoto library, Fat Cat Software's iPhoto Library Manager is like the One Ring to Rule Them All. Except, we aren't talking about hobbits, and I don't think the company is trying to rule the world—it just wants to help you effortlessly manage and sync multiple libraries. Thanks to a new update, iLife '09 users can now sync all the friend and location information that Apple added to iPhoto '09.
For those who have never had the pleasure, iPhoto Library Manager (IPLM) helps you to create and manage multiple, separate libraries on a single Mac, move albums between libraries, share libraries between multiple users on a single Mac, and more. You can learn more about iPhoto Library Manager's library syncing features with Joel Kissel's guide.
In beta for a couple of months, iPhoto Library Manager 3.5 brings a number of new features and fixes, but the most notable center on the headlining features in iPhoto '09. Now, Faces and Places information will come along for the journey when copying photos between libraries or merging two libraries together.
Other changes include easier access to log files, proper merging of iPhoto libraries when using the import option, and a variety of bug fixes. The new version is a free upgrade for all registered users; a license costs $20.