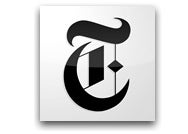 In our increasingly digital world, printed newspapers are sometimes thought of as relics. Who wants to get ink on their fingers and have to recycle the paper when they're finished reading it when you can go to the Web and get the same news.
While the news might be the same on the Web site, the experience isn't. One of the things I like best about reading an actual newspaper is being able to quickly scan page after page of news. I end up reading stories that I normally wouldn't read because they caught my eye. This "serendipity factor" is what many Web sites lack, and what the nearly released Times Reader tries to bring to your computer screen.
The Times Reader is an application from the New York Times that is designed to present you with stories and features available both on the Web and in print, but in an a format that is easier to read on a computer screen. The app downloads news based on a schedule, which you can set, and stores it locally so you can read the news even when you don't have an Internet connection (on the plane, for example). A whole week of news can be read through the Times Reader, though you have to switch between editions if you want to check out news that is a couple of days old.
This is version 2.0 of the Times Reader, and there are many big differences between this release and the previous iteration. Previously, the Mac and PC versions were completely different and didn't offer the same features. For example, the size of the app's window on the Mac could only be one of three preset sizes. Now the Times Reader is an Adobe AIR application, which means that you'll need to install the AIR runtime in order to use it. But it also means that it acts the same on both Mac and PCs. You can also now actually play the crossword puzzle within the app, which is kind of cool.
The biggest new feature—and the one that brings a little of that serendipity factor back to reading news on your computer—is what I like to think of as Exposé for the Times. You click a little Browse icon in the upper left-hand corner of the app, and your view hovers over all the sections of the news. Using your arrow keys you can quickly pan and scan over the day's news and then zoom in and read an article when something catches your eye.
The Times Reader is available now and requires Adobe AIR to run. Times Reader is included in the price of a home delivery subscription, but you can also get a Times Reader-only subscription for $3.45 a week.