Sheep Abduction, a zany $2 game from Sticky Studios, looks great. The game's central conceit is nutty: You control an alien spaceship, and you must abduct sheep and place them in specific spots, so that they'll stomp down grass in specific patterns to create crop circles.
Got that?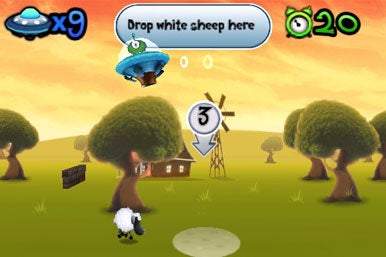 You control the spaceship by tilting your iPhone or iPod touch left and right. As you soar through each of the 20 beautifully-drawn levels, you'll need to activate the ship's beam (by pressing and holding anywhere on the screen) and use it to pick up sheep. While holding them, steer to the appropriate destination point and drop them off.
Although you wouldn't necessarily know it by looking at the game, Sheep Abduction is a puzzle game. Solving each level by getting the right sheep in the right place within the time limit requires strategy to execute correctly. Your ship needs to pick up special power-ups to switch from being able to lift white versus brown sheep, for example. On some levels, you don't actually pick up sheep at all; instead, you need to trigger the right sequence of events to free trapped sheep so that they'll walk to the right place.
Difficulty escalates quickly in Sheep Abduction. Steering and aiming your ray both feel a bit imprecise. But each level's new challenge is fun to figure out, even if it can get a bit maddening to retry. Luckily, the silly premise and lovely look don't get tiresome to interact with, so retrying levels that you can't quite master early on doesn't grate—too much.
Sheep Abduction is compatible with any iPhone or iPod touch running the iPhone 2.x software update.
[Frequent Macworld.com contributor Lex Friedman also blogs.]