Peggle, the blockbuster casual game from PopCap Games, is now available for the iPhone and iPod touch. It's $5 at the App Store.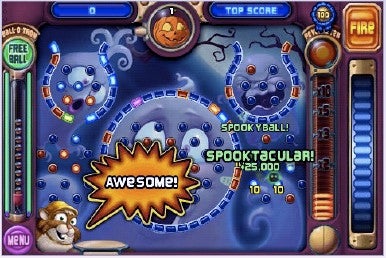 Peggle tasks you with firing chrome balls from a cannon at the top of the screen, using physics to rebound the ball around a screen filled with pegs. Each time the ball makes contact with a peg, it disappears. Specially colored pegs need to be removed in order to win each level; other specially colored pegs will imbue you with a special power for a limited time. A moving basket at the bottom gives you a replay, and at the end of the round, the location where the ball lands gives you extra points.
"Peggle Masters" — cartoonish characters distributed throughout the game — each unlock a different power, while testing you with progressively more difficult and challenging puzzles.
Peggle has been downloaded nearly 50 million times since its release, and is already available for Mac OS X, Windows, game consoles and iPod.
The iPhone and iPod touch version of Peggle includes special features unique to this version, including a special "zoom" feature for more accurate aiming, new types of style shots, a new trophy system, special aiming wheel and an enhanced user interface.
System requirements call for iPhone 2.1 Software Update.