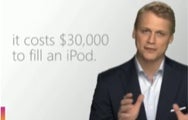 Oh, Microsoft. You're really letting that envy get the best of you, huh? Not content to reserve its vitriol for Apple's Mac line, the latest ad from Redmond takes a shot at the iPod and iTunes Store. That's right, folks, it's the rare wild Zune ad; don't make any sudden moves—you might startle it. You can catch the full ad below.
"Certified Financial Planner" Wes Moss—perhaps better known for his stint on season two of Donald Trump's reality series, The Apprentice—points out that it costs $30,000—$30,000!—to fill the "latest" model of iPod (the 120GB iPod classic). Instead, you should just give your hard-earned money to Microsoft for a monthly Zune Pass.
Okay, never mind that these days I'm not much inclined to take my technology advice from a financial planner, much less a celebrity financial planner. Sure, the shtick here is technically true—if anybody were to actually spend the time filling his or her iPod with music from the iTunes Store. Most of the people I know don't see it as their goal to completely fill their iPods, though; I'm pretty sure they're aware that's not how you win at life.
Not to mention that the "calculation" discounts all the music customers import from their existing libraries, like, oh, all the music they've acquired on CD or through free promotions, etc. And it also assumes you pay for every individual song instead of by buying albums. And…well, you get the point: the ad's message is true for a very narrow definition of "true." It would be as ridiculous as Apple saying that you could fill your iPod classic for free by downloading the free iTunes track of the week every week. I mean, that's totally true as well, even though it would take you a lengthy 577 years.
On the Microsoft side, let's also not forget that the Zune Pass costs $15 every month, regardless of whether you buy music or not. Oh, and, should you decide you're tired of paying that $15 a month, you'll find that most of that music you've been enjoying is gone (currently the Zune Pass allows you to download up to 10 songs a month for keeps).
Still, this is advertising, and far be it from us to expect anything other than a heavily slanted message. Maybe the Zune is for you and you're happy with the tradeoffs—that's cool. Just don't hand your money over to Microsoft because of this dude's argument.
Read more…