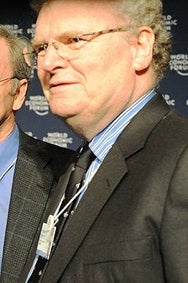 While Sony may have invented the Walkman, the Japanese stalwart is looking a little old and busted these days. In theory, Sony could have used its success with the Walkman and, to a lesser extent, the MiniDisc to create a truly innovative music player and its status as one of the big four record labels to make a great online music store. And yet, it continually found itself playing second fiddle to Apple.
In a recent interview with Nikkei Electronics Asia, Sony CEO Howard Stringer says that "If we had gone with open technology from the start, I think we probably would have beaten Apple Inc of the US."
But see Stringer—can I call you Stringer Bell?—it's not that you did or didn't go with open standards, but rather that you bet against those digital standards and kept making CDs when in fact you could have blazed the digital trail all on your own. Then again, your insistence on closed formats like ATRAC to the exclusion of commonly used standards like MP3 didn't exactly help.
It's really not the openness that makes Apple great. Heck, Apple isn't all that open. If openness were what makes a company great, then Ubuntu should be Google. But it's not. Sony needs to figure out how to make something that changes the game, like the Walkman, stat. But not the Walkman again—it's been done, guys.
[via CNET News]