Anticipated for a couple of years and announced several months ago, Sling Media's SlingPlayer for the iPhone and iPod touch will arrive on the App Store late Tuesday or early Wednesday. The app, which allows iPhone users to view live TV streamed from the Slingbox family of place-shifting video hardware, will cost $30.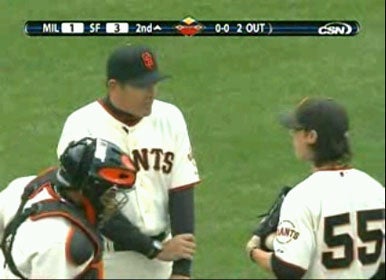 Beyond the app's price (high for the App Store, but in line with price of Sling apps for other mobile platforms), there are a few other wrinkles to this release. Because of AT&T's strict no-Slingbox policy, the app will only work over Wi-Fi networks. And despite rumors to the contrary, the app will connect to what the company calls "legacy Slingboxes"—the original Slingbox Classic, Slingbox AV, and Slingbox Tuner. However, Sling Media says that those older devices aren't officially supported, so you're on your own if you own one of those devices and want to play them back on the iPhone.
I'm a longtime Slingbox user on the Mac and I've been using a prerelease version of the app since early April. On a Wi-Fi network, the picture quality is quite good, although quality will vary depending on the speed of both your Wi-Fi network and your Slingbox's connection to the Internet.
The pre-release version I tested actually did work on AT&T's cellular network. I'm not at all impressed with AT&T's ban on this technology (while allowing live streaming audio from radio stations and Major League Baseball, as well as YouTube videos!), especially given the ability of the Slingbox to dynamically alter the amount of data it sends to remote devices. Wouldn't it have been better for AT&T (and Apple, who presumably acted as gatekeeper to force Sling to strip out support for cellular networks) to enforce a specific bit-rate limit on mobile networks? I'm not privy to the details of the discussions between Sling, Apple, and AT&T, so all I can do is speculate.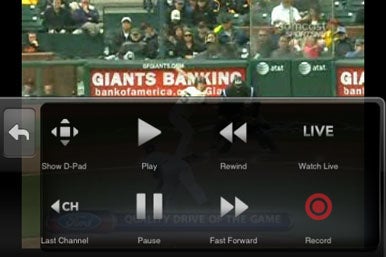 What I can tell you is that the video I saw on the cellular network was, as you might expect, not anything to write home about. The quality was severely degraded and there were numerous hiccups in the connection, requiring long pauses for rebuffering. So while it's frustrating not to have the ability to peek at video while out and about on a cellular network, the cellular SlingPlayer experience itself was almost as frustrating.
Setting aside network issues for a moment, let's talk about the app itself. In order to use the device, you'll need to set up an account on Sling's web site and register your Slingboxes there—SlingPlayer logs in to that account in order to display a list of available Slingboxes. Once you log in, you pick a Slingbox and you're set—by default the app will automatically connect to that Slingbox every time it opens.
Once you're logged in and viewing video, a single tap brings up a menu bar with options to view favorite channels, emulate your remote device's remote control, bring up DVR or program guide controls, set options, and disconnect from the Slingbox. The Guide and DVR buttons are shortcuts to quickly pick a program to tune to or play back, though sometimes I found that they got in the way; I generally just preferred to use all the buttons on the emulated remote control.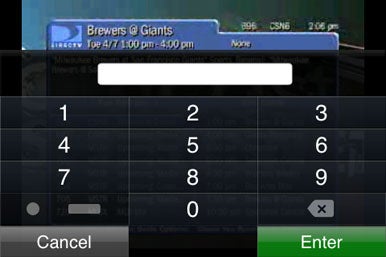 SlingPlayer excels when it comes to quickly moving between channels. Once you set up a list of favorite channels, you can switch among them simply by swiping your finger from left to right, or right to left. If you simply want to move to the next channel in your lineup, rather than among favorites, you swipe from the top to the bottom (channel down) or bottom to top (channel up).
So if you're a Slingbox user and you're somewhere with Wi-Fi—whether it's in your house or in an airport terminal—you can watch TV without pulling out the laptop. Being able to watch live TV on demand (for me, that usually means a sporting event) from anywhere is one of the compelling reasons to get a Slingbox. Having the ability to do it without a laptop? That's a nice bonus, too, though one with a $30 price tag.