If the thought of touching Kathy Lee Gifford and Al Roker elicits thoughts of pleasure rather than waves of revulsion, then The Zumobi Network's Today Show app for the iPhone and iPod touch is for you. The free app gives Today's users a spectrum of video and audio content to peruse on the go.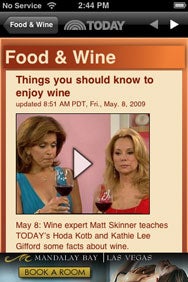 Emulating the appearance of the venerable morning program, with its warm crimson, orange and gold color scheme, the app is sleek and easy to navigate. Users browse by sliding the home screen horizontally, left and right. To watch a story, simply tap on it and the app launches a video player. When you're finished, simply tap Done; the player closes and you're back where you started. I wish more app developers would remember to give users an easy way home like that—it's so simple and so obvious. Naturally, you need a Wi-Fi or 3G/Edge connection to take advantage of the app's content.
If you're driving or multitasking, the Today app also gives you the option of listening to the audio of the program's popular and news-heavy first hour. On the downside, there seems to be a lot of redundant content, with the same stories appearing under several different headers. And there is a notable dearth of Matt Lauer.
NBC's executives cry themselves to sleep every night knowing CBS, ABC, and Fox routinely best the network's prime-time line-up. But one thing is certain, and it's been true for nearly 14 years: NBC owns mornings. And for the moment, NBC owns morning show apps for the iPhone and iPod touch.
Today Show is compatible with any iPhone or iPod touch running the iPhone 2.x software update.
[Ben Boychuk is a freelance writer and columnist in Rialto, Calif. Feel free to e-mail him.]