At a Glance
Expert's Rating
Our Verdict
Today's clickwheel iPods, iPod touch, and iPhone are capable of displaying video not only on their displays but also on tethered televisions. You can make such a TV connection using one of Apple's AV cables—the Apple Composite AV Cable or Apple Component AV Cable. But, at $49 each, these cables aren't cheap, plus they don't give you the flexibility that comes with a remote control. If you want to navigate through the iPod or iPhone's music and video files, you have to get up off the couch and twiddle with that device's controls.
To solve this problem you could continue further along the Apple path and purchase Apple's Universal Dock for yet another $49. But while that Dock includes Apple's Remote Control, it doesn't also bundle the Apple USB Power Adapter (a $29 doohickey). Add it all up and you've paid $127 for the works. If you're willing to forgo computer syncing you could have all this for $80 by purchasing Dexim's AV Dock Station with Remote Control.
The AV Dock Station is an attractive, not-terribly-large dock that includes an IR remote, composite AV cable, AC adapter, and eight inserts that accommodate all iPhones and iPod touches, the third- and fourth-generation iPod nanos, the iPod classic, and the fifth-generation iPod (the dock is also compatible with the second-generation iPod nano, butdoesn't include a dock insert for it). The remote includes Menu, OK, Volume Up, Volume Down, Play/Pause, Previous/Rewind, Next/Fast-Forward, Up, and Down buttons. To connect the Dock to a TV or stereo you use the AV-out port on the back of the dock in league with the included (and solid-feeling) AV cable. The dock will operate perfectly well without being plugged into a power outlet. The AC adapter is necessary only for charging an attached iPod or iPhone.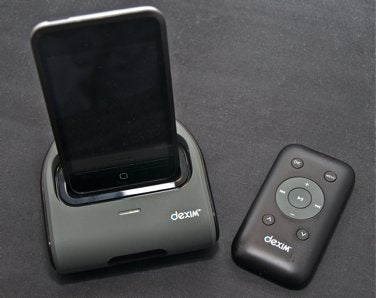 What it doesn't include is Apple's proprietary dock-connector port, which explains why you can't use the dock to sync your iPod or iPhone to your computer. (Given that the dock is intended for use with a TV, which likely isn't sitting right next to your Mac, this doesn't seem like a great loss.) And, unlike more expensive solutions such as DLO's $150 HomeDock Deluxe, it doesn't provide a TV interface for the dock. To navigate the iPod or iPhone you can use the remote control but you have to look at the iPod or iPhone's screen to see where you are.
Operation and performance
If you're accustomed to Apple's Remote Control you'll find the Dexim remote takes some getting used to. Far too often I hit this remote's Play/Pause button expecting it to move me through the iPod or iPhone's interface when I should have used the remote's OK button instead. Similarly, I expected the Plus and Minus buttons to not only increase and decrease volume, but move up and down a playlist on the iPod or iPhone. No, that's what the Up and Down buttons are for.
It was particularly perplexing when working with the iPhone. Select a movie and start it playing. Press Play/Pause to pause the movie and then press Menu to back up a screen to see a list of other movies. Use Up or Down to select a different movie and press Play/Pause to play that movie and… the last-played music track plays. Why? Because when you select another movie you need to press OK to tell the dock that that's what you want to play, not resume playback of a previously paused song.
Moving through a clickwheel iPod works as you'd expect—you navigate through the hierarchy much as you would using the iPod's controls. Similarly, once you press the remote's Menu button, you're taken to an iPhone's iPod screen, where you can choose to play video or audio files.
With an iPod touch you have to fiddle a bit more because the touch has separate applications for playing music and video. When you press the remote's Menu button, the media application last launched on the iPod touch will open—Music, if you last listened to music, an audiobook, or a podcast; or Videos, if you last played a TV show, movie, music video, or video podcast. If you've been listening to music and would now like to watch a movie on your touch, you must first launch the Music app by tapping Music on the iPod and then you can navigate that application with the remote.
The dock's video performance was what I expected from a composite video output—lacking in some detail and a little pixilated when there's a lot of motion on the screen, but no worse than other composite video I've seen on my plasma TV. Audio was fine, even with the iPhone. I didn't pick up any cell phone static in my tests. Should this be a concern you always have the option to turn on Airplane mode.
Macworld's buying advice
The AV Dock Station with Remote Control is a more affordable solution than the one provided by Apple for remotely controlling an iPod or iPhone attached to a television or stereo. If you want a completely couch-controlled experience, you'll need to spend more money for a dock that either provides a menu system on the TV or a remote that includes an LCD of its own. If you can live with occasionally getting up to punch a couple of buttons on your iPod touch or iPhone or glance at a display, this is a product worthy of your consideration.