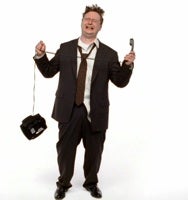 I was watching the season finale of Fringe (Did you see it? It was very cool indeed) when out of nowhere a new Get a Mac ad plays. I rushed to Apple's Web site only to find that Apple has released three new Get a Mac ads tonight starting the iconic Mac and PC pair played by Justin Long and John Hodgman respectively.
In Customer Care, an Apple Genius joins PC and Mac to the superior customer care experience one has with a Mac (provided that you live near an Apple store, but they are popping up everywhere nowadays).
The remaining two of the trio are pretty much direct answers to Microsoft's Laptop Hunter ads. Remember, those are the ads that feature "real people" looking for a computer based on a certain set of criteria, such as "I need a big screen" or "I want to edit movies so I need lots of RAM." Unbeknownst to these computer shoppers, they are being filmed by Microsoft, and if they can find a computer that matches their budget, and has the specs they need, the computer is on Redmond. Perhaps not surprisingly, all the people in the commercials end up with PCs.
Apple has responded with Elimination, in which a woman looks for a PC with a large screen, faster processor, and a computer that doesn't crash or have viruses. That eliminates all the PCs, and she is left with—you guessed it—a Mac.
PC Choice Chat features PC's call-in radio show where he offers to help people choose which PC is right for them. All his callers are interested in are computers that don't crash and getting great technical support. PC doesn't take the snub well.
So, what do you think of this latest crop of Get a Mac ads? You can check 'em out yourself on Apple's Web site (in HD even!).