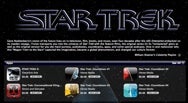 It's a good time to be a fan of Star Trek. You can't go anywhere without seeing a marketing tie-in for J.J. Abrams's much-lauded reboot of the Star Trek franchise. Movie marketing isn't anything new (though this is the first time that I'm aware of that Kingons have appeared in a commercial) but there was a time when they were limited to physical artifacts: cheap toys in fast-food restaurants, more expensive action figures in toy stores, and even more expensive replicas of props for the discerning Trek fan.
It looks like Apple—and Paramount—didn't want to miss an opportunity to cash in on a good thing, so they've opened a special Star Trek section on the iTunes Store. Collected in this section are all manner of goodies, from apps for your iPhone (who doesn't want to learn how to speak conversational Klingon?) to the movies, TV shows, and music that spawned the phenomenon in the first place.
You Trekkers out there should be sure to set your credit cards to purchase before you voyage into this section of the iTunes Store (ahh, Star Trek puns, is there anything better?).