Apple announced Wednesday that a team of Apple executives will deliver the keynote address to attendees of Apple's Worldwide Developer Conference (WWDC), led by Philip Schiller, Apple's senior vice president of worldwide product marketing.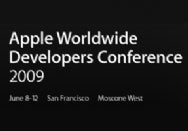 WWDC is Apple's annual gathering of Macintosh and iPhone developers and IT professionals from around the world. This year's WWDC takes place from June 8 – 12, 2009 at the Moscone West conference center in San Francisco, across the street from the home of Macworld Expo.
More than 100 technical sessions will be featured, hosted by Apple engineers and focusing on a wide range of topics for developing, deploying and integrating iPhone OS 3.0 and Mac OS X. More than 1,000 Apple engineers will be on-site to present new Apple technologies and providing help in hands-on labs.
This year, two spotlights of the show will be on iPhone OS 3.0 and Mac OS X Snow Leopard. Neither operating system upgrade has been released yet, though Apple has been seeding beta releases to registered developers.
"At WWDC, we will be giving our developers a final Developer Preview release so they can see the incredible progress we've made on Snow Leopard and work with us as we move toward its final release," said Bertrand Serlet, Apple's senior vice president of software engineering.
The news that WWDC's keynote will be delivered by a team of Apple executives may quell suspicion that Apple CEO Steve Jobs would make an appearance at the event. Jobs took a leave of absence from day-to-day operations at the company in early January, indicating that he needed treatment to manage a "hormone imbalance" that caused him to lose weight throughout 2008. Jobs' leave is supposed to last six months, which would place his return sometime in July.