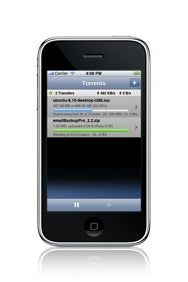 If there's a specter that haunts Apple's App Store like the ghost of Jacob Marley, it's the institution's mysterious approval process. Yes, we've discussed it before at length, but that doesn't meant we're about to stop now. The latest app to find itself in Apple's crosshairs is a program called Drivetrain.
Drivetrain is an iPhone app that lets you remotely control Transmission ( ), a desktop BitTorrent client that runs on OS X. Aaron Scott of Drivetrain developer Maza Digital told Macworld that Apple's rejection letter for the app denied it on the grounds that "this category of applications is often used for the purpose of infringing third party rights."
Scott, however, contends that Drivetrain does nothing illegal. The application isn't itself a BitTorrent client; it just provides an iPhone-native front end for remotely managing Transmission. Transmission already includes a Web interface for remote control, so perhaps Apple should take a close look at that shady Safari application.
Futhermore, while Apple has said in the past that it wouldn't allow applications that fall under the heading of illegal, that's not quite what Apple's saying here—rather, the company's rejection describes BitTorrent apps as "often used" for infringing purposes. In which case, you might as well ban the iPod app because you could use it to listen to pirated music, the YouTube app because it could be used to watch pirated videos, and Safari because you could use it to view pirated text and images. Yes, BitTorrent has infringing uses—but it also has perfectly legitimate purposes as well, such as distributing freely available software like Linux and content licensed under the Creative Commons system, such as the yearly music downloads from the South by Southwest festival.
If that's not enough to stick in your craw, there's the issue of consistency. The latest version of an iPhone RSS application called Trackr (iTunes link) allows you to queue torrents for downloading on your home machine running either the uTorrent or Transmission BitTorrent clients and it's been available on the App Store for around a month. If Apple's process is well-regulated, that update shouldn't have made it into the store.
At its iPhone 3.0 event last March, Apple said that 96 percent of submitted applications are approved. That's all well and good, but what about the 4 percent that aren't? While many of these are probably in actual violation of Apple's stated rules, there are still plenty of examples like Drivetrain and Tweetie where the rules appear to verge on the haphazard. The opacity of the process means there's just no way to know.
Maza Digital's Scott said that he had already resubmitted Drivetrain with no changes. While previous experiences suggest that the application has a good chance of making it through the second time around, in some ways that's just as worrying, since it displays the very lack of consistent rule application that makes the approval process such a nightmare for developers to navigate.