At a Glance
Expert's Rating
Our Verdict
The designers at Philips took the "multi" in "multimedia player" literally when they put together the Docking Entertainment System DCP851/37. This glossy-black, tablet-style video accessory enables you to view images and videos from an iPod, DVD, CD, or SD/MMC memory card, and listen to audio from the same sources—many video and audio formats are supported. The DCP851/37 is akin to those big, fat Swiss army knives that perform many functions adequately but don't do any especially well. (I tested a white version of the DCP851/37, which carries the model number DCP852/37; according to Philips, the DCP851/37 and DCP852/37 are otherwise identical, although it appears the white version is no longer available.)
The left-hand side of the DCP851/37 hosts a plenitude of jacks and controls: two headphone jacks, AV-in and -out jacks, a volume wheel, an SD/MMC card slot, and a jack for the included AC and DC adapters. The right-hand side is devoted entirely to a pop-out iPod dock; a variety of adapters are included to provide a snug fit for various iPod sizes. A rear-opening CD/DVD drive provides the ability to play traditional DVDs, audio and video CDs, and DivX discs. The unit can even function as a digital photo frame.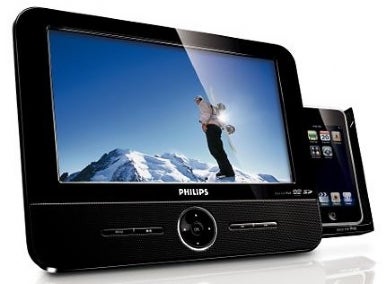 At 8.5 inches (diagonal), the DCP851/37's screen is larger than that of most portable video players we've seen. However, the unit's large size—9.3 inches wide, 7 inches tall, and 1.6 inches thick, and weighing nearly 3 pounds—makes it a less-than-ideal travel companion. The DCP851/37's short battery life—2.5 hours when playing a DVD straight through, or about 3 hours when playing video, uninterrupted, off an iPod—doesn't help. Charge time is a lengthy 3 to 4 hours, and since the lithium-ion battery isn't replaceable, you can't bring along a spare or use disposable batteries in a pinch.
But even considered as simply a way to play iPod-hosted videos on a larger screen, the DCP851/37 is less than impressive. The screen resolution is 480 by 234 pixels, but images are washed out when not viewed straight on in low light. Similarly, audio quality is excellent when listening using your favorite headphones, but the DCP851/37's external speaker provides weak, mediocre sound. With the volume maxed out, audio from the speaker is just loud enough to provide a satisfactory experience in a quiet environment.
Similarly, loading a disc into the unit requires you to turn the entire player upside-down; a side-loading slot would be much more convenient. If the DCP851/37 doesn't find a disc at startup, it checks to see if an iPod is connected, in which case you're asked to "reset" the iPod—which really means "take your iPod out of the dock and put it in again." There doesn't appear to be a way to get the system to look for an iPod by default, or to avoid having to "reset" your iPod when it's found.
Other aspects of the design also leave much to be desired. For example, the on and off buttons, as well as the buttons to select an aspect ratio (16:9 or 4:3) and switch between inputs (DVD, iPod, SD/MMC or AV) are nearly flush atop the right-hand side of the unit, making them difficult to see unless you turn the unit nearly upside-down. Also, the video player has a pop-out stand on the back, next to the DVD player; however, this stand has only a single position, which I found to provide a poor angle for most of my viewing positions.
The DCP851/37's front controls, placed in the center of the speaker grill at the bottom of the unit, are much easier to see. These enable you to access the system's onscreen menus, pause video, and navigate through menus, DVD contents, and iPod files. Unfortunately, I often found these buttons to be unresponsive.
Fortunately, the player comes with a remote control, which is well-designed, responsive, and chock full of options, making it my preferred way to control the unit during my testing. The only problem here is that the DCP851/37's best viewing experience is had by holding the main unit in your hands, so using the remote requires juggling between the player and the remote.
Even once you get down to viewing content, there are some puzzling design decisions. For example, when you pause a video using the on-board controls, there's no default display of the elapsed and remaining time; this basic information is available only via a button on the remote. The unit's onscreen low-battery indicator, on the other hand, is a flashing icon that begins to flash about a half-hour before the battery runs out of juice…and continues to flash until the battery dies, creating a visual annoyance for a fifth of the units' playing time.
Macworld's buying advice
Philips' previous effort at a iPod/DVD media player, the DCP750, was a winner; I reviewed it back in April 2007 and liked it a lot. The company retained that player's very good remote control design, but the DCP851/37 lacks the solid feel and panache of that predecessor. While the DCP851/37 is decent as an iPod dock, and can serve as a low-output external speaker system for your iPod, its video functions and design are disappointing.