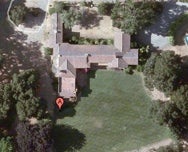 Mr. Jobs: Tear down this wall. And the other three can go, too.
Apple CEO Steve Jobs's quest to demolish a mansion he owns in the Silicon Valley suburb of Woodside was approved Tuesday night by the Woodside city council, according to the Palo Alto Daily News and the San Francisco Chronicle.
Though some locals felt the house, built by architect George Washington Smith for copper baron Daniel Jackling in 1926, was historic, Jobs has described it as "one of the biggest abominations of a house I've ever seen." He applied for a demolition permit on the property in 2001. Three years later with permit finally in hand, the mansion received a stay of execution when city consultants claimed it was of historical significance.
Now, eight years later, Jobs— no fan of misty sentiment he—finally has the go-ahead to wipe out the old girl and build a new $8 million house on his property.