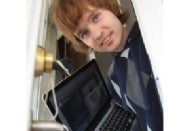 I'm super paranoid about leaving my Mac unattended. Given that it's my lifeblood, it's rare that it's more than an arm's reach away. I abhor the thought of what would happen if my MacBook was stolen and I had to invest in a new one.
Yeah, yeah, I know there's this Undercover software that's out there—a LoJack-style setup that snaps pics and sends data back to a central location in the event of a computer theft. But honestly, between you and me, I've always wondered how well something like this performs in the real world.
Well, Orbicule (maker of Undercover) has got quite the tale about that in a recently posted piece on the company blog.
After having lost a laptop before, Petter Røisland decided that it was time to install Undercover. On February 9, 2009 his family were the victims of a burglary and he lost his precious MacBook.
As Røisland tells it: "I quickly contacted the Undercover recovery center to report the machine as stolen, and I got an email from Orbicule. I confirmed the theft, and about 10 minutes later the machine was marked as stolen and Undercover was activated."
About two months later, there was an interesting turn, just as the police had closed the case. Petter found out, based on Undercover's screenshots and snaps from the MacBook's camera that "one of these persons was actually the leading drugs dealer in our region."
By April 13, 2009, Røisland was sitting pretty, back in front of his MacBook again, with all the data intact. Silly criminals.
Undercover costs $49, which seems like a steal if, in fact, it works as well as this story suggests.
There are, however, a few alternatives, as we pointed out last year, including the free, open-source version straight outta Latvia, MacSlegs.
Anyone else have any luck with any of the aforementioned recovery apps?
[Updated at 3:47pm pacific to clarify that Undercover is not a yearly subscription.]