Among the many changes in Mac OS X 10.5.7, released Tuesday, is one sure to please Mac Pro owners — support for ATI's Radeon HD 4870 card.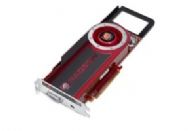 The Radeon HD 4870 graphics card has been a configure-to-order option for new Mac Pro buyers since the Mac Pro was refreshed in March. At nearly the same time, Apple introduced a Radeon HD 4870 kit for users of Mac Pros manufactured since 2008 — the card promises a significant speed improvement over the other offerings for those Mac Pro models, along with support for the Mini DisplayPort interface found on Apple's 24-inch Cinema LED Display.
Since then, it's largely been a waiting game for customers who pre-ordered the card on its own, though it appears that some cards were delivered earlier than expected, within the last week or so — early recipients of the Radeon HD 4870 either saw their delivery intercepted by Apple or were advised by Apple to refrain from installing the card until a driver update was made available.
Mac OS X 10.5.7 contains that driver update.
Some Apple Store customers who have pre-ordered the card report that their shipping status has changed, to shipping within 24 hours, further suggesting that the hold up was related to 10.5.7's release.
The 10.5.7 update includes support for extensions to OpenGL, Apple's 3D graphics Application Programming Interface (API) needed to support the Radeon HD 4870, according to a recent post made by an ATI representative subscribed to the Mac_OpenGL mailing list, a listserv hosted by Apple for the benefit of programmers working with OpenGL code.