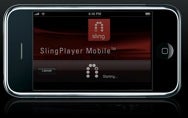 The much-anticipated SlingPlayer Mobile application for the iPhone has finally made its way into the App Store, but not without some changes from the pre-release version. The biggest among those: at the behest of AT&T, the SlingPlayer Mobile application will only work via the iPhone's Wi-Fi connection, and not over AT&T's 3G network.
AT&T spokesperson Mark Siegel told Macworld that the company's terms of service specifically prohibit the use of applications that redirect a TV signal to mobile computers, a category in which it includes the iPhone. AT&T portrays the concern as one of network reliability. "It's about making sure all our customers have access to the wireless network," said Siegel. The SlingPlayer Mobile client is available for other platforms supported by AT&T's network, such as Symbian and BlackBerry; Siegel confirmed that the restriction was not limited to the iPhone, but as per AT&T's terms of service, was enforced across the board.
Those terms file SlingPlayer's use under a category of applications that "cause extreme network capacity issues and interference with the network," specifically applications that require maintaining a continuous Internet connection. Also included under that heading are downloading movies via P2P file-sharing applications and operating servers. "It has the potential to consume a lot of bandwidth," says AT&T's Siegel. He also pointed out that AT&T has an extensive network of more than 20,000 Wi-Fi hot spots around the country at which AT&T's iPhone customers can get free Internet access, which will allow them to use the SlingPlayer Mobile application.
Of course, SlingPlayer Mobile isn't the only app available for the iPhone that is used to stream video—the iPhone has its own built-in YouTube player, for example. AT&T draws a distinction between the way users treat YouTube and the way they might treat SlingPlayer Mobile. "Because of the way of people would likely use [SlingPlayer], to watch full-length programs and so on, it could create congestion on the network and make it potentially harder for other customers to use the network resource," said Siegel.
SlingPlayer Mobile also has a potential competitor in AT&T's own Mobile TV service, which allows unlimited access to a selection of live television programming for an additional monthly fee. AT&T's Siegel characterized this as a different model from the SlingPlayer, since customers actually pays for the bandwidth they're consuming. However, Mobile TV is not currently compatible with any model of the iPhone.
Restricting the use of the cellular network isn't limited to SlingPlayer Mobile either. For example, when CBS released an app for watching the NCAA basketball tournament this past March, streaming video was only available via Wi-Fi; on the 3G connection, users were limited to audio from the games. In addition, both the iPhone's App Store and iTunes Store applications limit downloads to files under 10MB while using AT&T's network. And when Apple first introduced third-party applications, it said that Voice over IP applications would only be allowed over Wi-Fi, though some groups have asked the FCC to look into the restriction, arguing that the decision has more to do with AT&T protecting its business model.