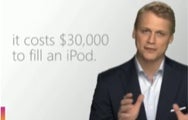 Microsoft and Apple are at it again. Or, well, still. But who thought Steve Jobs would be back for WWDC? No one with reading-comprehension skills. And are netbooks falling, feather-like, back to Earth?
But it comes with free headphones
Microsoft came out swinging again this week, issuing an ad that claims that the true cost of owning an iPod is a whopping $30,000!
Right. Swinging like a drunken monkey trying to hit a piñata while blindfolded.
Really, as the Macalope has said, this—like any of the rest of Microsoft's ads—isn't an honest argument. So it doesn't deserve an honest response.
When someone impugns the integrity of your mother, you don't say "Hey! My mother does not swim out after troop ships!" No, you impugn the integrity of their sister. Preferably in some context that includes barnyard animals.
Apple, clearly, is ready for this fight. Microsoft is like an aging politician who decides he's going to "mix it up" with Jon Stewart. Dude, you lost before you walked into the Thunderdome. Microsoft's ads aren't funny and statements like "I don't know about you, but I don't have 30 grand laying around for music" are a little more forceful when they're not coming from a guy wearing a blazer with a handkerchief in the pocket. No offense, but you look exactly like you have $30,000 laying around for music.
Microsoft's jab here is not at Apple, it's at owning your music. And most people have already decided they like owning their music. No fancy-pants financial analyst is going to change that opinion now. And, really, does owning an iPod mean you need to shell out tens of thousands of dollars to fill it? Of course not. There's no need to get into the myriad of ways this is nonsense because it's not a serious argument.
So whenever anyone brings this argument up to you, just ask them, "What does it say about the Zune that it can't compete against a device that costs $30,000?"
Read more…
Can we at least get a burning bush?
Piper Jaffrey's Gene Munster stirred up the Apple world this week by predicting that new iPhones wouldn't be coming until Steve Jobs is back in late June or in July.
You can hear him go into it in this CNBC appearance, charmingly entitled Apple Innovation Slowing? (Warning: link to video showing disturbing images of financial industry talking heads ham-fistedly chumming it up with Munster delivering smarmy jokes about Munster's last name: "Gene, you're a monster!" Ugh.)
Silicon Alley Insider's Henry Blodget reported Munster's prediction by saying Uh Oh: No New iPhone Or Steve Jobs At Apple's WWDC.
Some had also hoped that God would reappear at the event and send the audience and Apple's stock to cloud nine.
Ha-ha! OK, which of you crazies thought God was going to appear? Huh? C'mon, fess up.
No, Blodget's not talking about the real God, with the robes and the chorus of angels and the backlighting. That's just technology-industry jerkweed shorthand for how those koo-koo Mac users see Steve Jobs. The other shorthand he uses is "some." That's just plain ol' journalism jerkweed shorthand for "I don't have any actual evidence anyone is saying this or I'd link to it, but I like to imagine people were."
Unlike Blodget's cartoon view of Apple fans, actual Apple fans can read and know what "the end of June" in the company's press releases means.
Forbes's Brian Caulfield's take on the other hand reads like "Waiting For Godot".
Maybe Apple will introduce a new iPhone June 8. Maybe not. Apple Chief Executive Steve Jobs might put in an appearance. Or he might not. We don't know.
Good Lord. Sure, we don't know in the sense that we don't know when the sun will explode. Scientists tell us that it won't be any time soon—just like Apple has told us Jobs is coming back at the end of June—but can we believe scientists?
Notbooks
Finally, what would Thursday be without another kick at netbooks from the Macalope? According to Electronista, a new report says netbook demand has dropped from its "Top o' the world, ma!" level. You always have to take these forecast reports with a grain of salt the size of a car battery, but the horny one wouldn't be surprised to find that cheap, small, underpowered laptops are not the wave of the future some have predicted.
Wait, did the Macalope say "some"?
Sorry. He meant some. You can see the brown and furry one's full response here, but suffice it to say he thinks the hype around netbooks is greatly exaggerated.
Shocking, he knows. He's even started wondering whether jet packs will ever gain mass-market adoption.