Sophiestication Software's Where To? is another entry in the growing collection of apps designed to exploit the location features in the iPhone or iPod touch. In essence, Where To? serves as a sophisticated front-end guide to Google Maps, letting users browse nearby services and amenities with a few taps of a finger.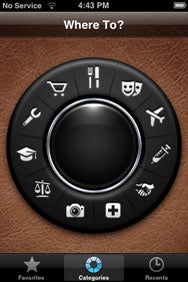 Why bother paying for an app that simply exploits what Maps does already? Two reasons: Interface and thoughtful design. Where To? is comparable with ActiveGuru's Vicinity ( ) and CrimsonJet's Places ( ). On the whole, Where To? is much better than Vicinity and has advantages over Places.
The differences are apparent from the moment you launch the app. Where To's home screen is a dial set in a beautifully rendered leather case. The dial shows symbols for various categories of stores and services, ranging from health care and education to stores and restaurants.
Along with the app's appearance, the developer clearly put some time and thought into the categories, which range from the obvious, such as tourist attractions, restaurants and movie theaters, to the esoteric, such as embroidery service and fireplace equipment.
Read more…
The app will use your current location, or a location from your address book, to help find whatever you might be looking for. You can save categories to a list of favorites. The app comes with several favorites built-in, and you can add and delete at will.
Where To? boasts a random-shake feature: Shake the app, and it will produce an interesting nearby location that you might wish to patronize. Or so the developer's description says. Even though the app's settings had this feature activated, it never worked for me. But when you browse the app's Food & Drink category, "Surprise Me!" is at the top of the list. Tap it, and you will automatically scroll to a random type of cuisine. You can then search near your current location, or using your address book.
As always, locator apps are only as good as the data. Although Where To? relies on Google, it still produces a few obvious and laughable errors akin to listing the San Bernardino County Public Defender Office under "pubs and bars." When I was experimenting with the random restaurant feature, I was given an Ethiopian restaurant in Riverside that is neither Ethiopian nor located in Riverside. And knowing the area I was searching, I couldn't help but notice some omissions here and there. But, by and large, Where To? will set the out-of-towner on the correct course.
Where To's biggest flaw—and it's a real annoyance—is the lack of a return to search function. Truth is, most people are fickle and aren't always going to settle with the first set of choices. Maybe I want to go to a Mexican restaurant or maybe I don't. Maybe I don't like the list, or maybe the only decent restaurant in my vicinity is out of the way. In any event, I shouldn't have to close the map and relaunch the app to search again.
Another minor drawback: It isn't always easy—or, in certain instances, even possible—to control where you're searching. Here, Places has the advantage because you can control the radius of your search with a few taps. Usually, Where To? will return places closest to your current location, and that's sufficient to the task. Sometimes, depending on what you're looking for, it will give you a location 50 miles away. And I found it difficult to switch from searching near my current location using the device's GPS locator to using my address book. The easiest way seems to be to restart the app.
If Where To? gave the user a bit more power over the range of its search, it would be a very powerful utility. As it is now, it is perfectly adequate for casual searches of nearby locations. But, as always, your mileage will vary.
Where To? is compatible with any iPhone or iPod touch running the iPhone 2.x software update.
[Ben Boychuk is a freelance writer and columnist in Rialto, Calif. Feel free to e-mail him.]