With online bookmarking and—even better—social bookmarking—all your bookmarks are available to you from any computer with an Internet connection. Tasty takes this concept a step further. The $12 application from Succont lets your bookmarks travel with you on an iPhone or iPod touch.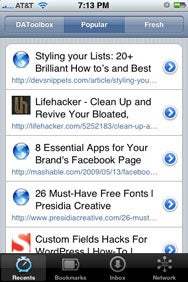 Specifically, Tasty puts your Delicious bookmarks in the palm of your hand. If you're not familiar with Delicious, it's a social bookmarking site that not only stores your bookmarks online for easy access from anywhere but also allows its users to share bookmarks. If you don't already have a Delicious account it's easy and free to set up.
Once you sign into your Delicious account via Tasty, you're able to see all of your bookmarks organized by tags or bundles as well as ones you've recently bookmarked complete with favicons. A button at the top of the home screen shows the most popular and most recent (or "fresh") bookmarks on Delicious.com. The app also gives you access to your inbox and subscriptions; if you have any networks set up you can view those as well.
Tasty also lets you save new bookmarks to your Delicious account from within the mobile version of Safari. I found it a little cumbersome to set up this functionality, which requires you to drag a bookmarklet from Succont's Web site into the bookmark bar on your desktop version of Safari before syncing your bookmarks to your mobile device.
Delicious is a fantastic social bookmarking service—it's a great way to discover new content on the Web as well as share your findings with others. Succont has done a really good job of bringing this platform to the iPhone via Tasty. The interface is simple and intuitive making using this app pleasure. That said, the $12 price tag is really high for this kind of app; hopefully Succont will lower it eventually to a more attractive price.
Tasty is compatible with any iPhone or iPod touch running the iPhone 2.x software update.
[Tim Mercer is a technology enthusiast, graphic designer, and blogger, whose blog, digital-artist-toolbox.com, offers free resources to the digital artist and graphic designer.]