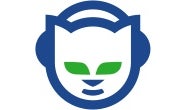 Behold, the second coming…of music subscription services. Just last week, Microsoft was seen touting its Zune Pass subscription as cheaper than the iTunes Store. Now, music-sharing site Napster is back with a new plan to appeal to consumers.
The new offering will cost consumers $5 a month for unlimited streaming of music from Napster's library of more than 7 million tracks, plus the ability to download five songs per month in DRM-free MP3 format. In addition, the service will also offer more than 60 commercial-free radio stations and more than 1,400 pre-programmed playlists.The service's new plan will be available starting Monday evening, and will be accessible via Firefox on the Mac, though the download manager software remains Windows-only.
Previously, Napster subscribers paid $13 a month for unlimited streaming, with the option to pay an extra, though discounted, amount for individual MP3 downloads. Customers will still be able to buy DRM-free MP3s à la carte, without having to subscribe to the service.
This move marks yet another new direction for Napster in the last several years. After the original sharing service was shut down in 2001, Napster was first relaunched as a legitimate music subscription service by software vendor Roxio in 2003, which coincidentally used the exact same tactic as Microsoft's recent Zune Pass ad in a commercial aired during the 2005 Superbowl.
Napster later attempted to compete with the iTunes Store and Amazon's MP3 store by opening a DRM-free music store in May 2008, and was subsequently acquired last fall by electronics retail chain Best Buy for $121 million. Like the old saying goes, if at first, second, and third you don't succeed, you should probably play left field.