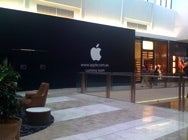 Hot on the heels of the Robina Apple Store in sunny Queensland, Australia, which opened on May 9, Apple is set to open another retail store in Australia before the end of the month, this time in Victoria's Westfield Doncaster shopping center.
The Apple Store, Doncaster will be Apple's second store in Victoria after the Chadstone site which opened back in 2008, both of which are in the greater Melbourne region. It will also be the fifth location in Australia following the flagship store in Sydney's central business district and Chatswood Chase shopping center, both in New South Wales.
A posting on MacTalk forums mentioned this site back in August 2008, but there was no evidence to support the claim until several months later. Today, a tweet from MacTalk noted that Apple's Doncaster store is finally going to open soon.
Covering roughly 120 thousand square meters (1.3 million square foot), Westfield Doncaster is one of Australia's largest malls, with major department stores Myer, Target, Big W, and David Jones as well as supermarkets Woolworths and Coles as anchor tenants. The shopping center is located roughly 20 minutes east of Melbourne's central business district and 30 minutes south north of Chadstone, by car.
While many are calling for Apple to open a store in Melbourne's central business district, at the moment there does not seem to be a suitable location for one. The Doncaster store's grand opening is scheduled for 9AM on Saturday, May 23.
[Image via Gizmodo Australia]