Iomega on Monday introduced a new generation of its eGo portable hard disk drives for Mac and Windows. The drives are priced starting at $85.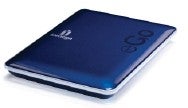 The new eGo drives are available in capacities up to 500GB, and are clad in three colors — red, silver and blue. The exterior is made of anodized aluminum, and inside is a 2.5-inch hard disk drive mechanism. The drive connects to a Mac or PC using USB 2.0, and can be powered from the bus rather than using a power supply.
Included with the drive is Mac-compatible software including Iomega QuikProtect, backup software for scheduling file-level data backup, and EMC Retrospect Express, another backup utility made by Iomega's parent company. MozyHome Online Backup service is also included, with 2GB of capacity for free and unlimited online storage for $5 per month. (WIndows users also get a copy of McAfee VirusScan Plus.)
System requirements call for Mac OS X 10.4 or later.
Iomega has also announced that new drives will arrive in June with multiple interface combinations.