If you're constantly looking up unit conversions because you can never remember how many cups are in a pint or how many kilometers make up a mile, Convertbot makes simple conversions like these—and hundreds more—a joy thanks to its beautiful interface.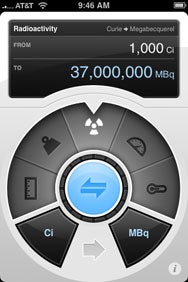 From the moment you launch Convertbot by Tapbots, you'll see right away that while there is nothing intrinsically glamourous about unit conversion, the designers have crafted a user interface that truly is.
With a flick of your finger you can access more than 300 hundred conversions grouped among 20 categories such as temperature, speed, time, and so on. Spin the dial to select the category and then tap the units to gain access to your unit options. Tap the number entries and the dial slides down to reveal a numeric keypad. Once you have your settings dialed in and your numbers entered, the app displays results at the top of the screen. The center of dial may be tapped to reverse the conversion. Only the currency converter requires an Internet connection so that Convertbot can fetch the latest exchange rates for more than a hundred different currencies.
In the preferences, you can turn off the app's sound effects and enable or disable the different categories and units displayed within them. This is a welcome feature, letting you opt out of displaying unused conversions. That speeds up the process of moving among the categories or units that you do use often. Another great feature of Converbot is the built-in demo which walks you through the basic features—this is something many other iPhone apps could use.
Perhaps the only functions missing might be a way to access recently used conversions and a simple calculator so you could stay within Convertbot if you have to make a few quick tabulations. Yes, you could perform many of the conversions in other ways, but you won't find a quicker, more elegant way than ConvertBot—especially at its current (and apparently temporary) sale price of $1.
ConvertBot is compatible with any iPhone or iPod touch running the iPhone 2.x software update.
[James Savage is the host of the RetroMacCast a weekly podcast devoted to older Macintosh computers. He can now convert from a Curie to a Megabecqueral—just in case.]